RE: US Pandemic Nuclear Attack..WOW!
----------------- Bulletin Message -----------------
From:
Pamela's Protest
Date: Jun 30, 2008 2:27 AM
US Pandemic Nuclear Attack..
----------------- Bulletin Message -----------------
From:
Rogue
Date: Jun 29, 2008 4:08 PM
Re: US Pandemic Nuclear Attack..
----------------- Bulletin Message -----------------
From:
Eddie NWO Censored
Date: Jun 29, 2008 11:54 PM
Joe Lieberban – US May Get 'Terror Attacked' In 2009
Terrorists in the US Capitol Hill are ready to roll out something big
****************************************************************
Zero Hour Trains EMTs With Virtual Worst-Case Scenarios
****************************************************************
Wired. com
By John Gaudiosi
06-23-08
http://www. wired. com/gaming/gamingreviews/multimedia/2008/06/pl_games
Virtual Heroes, the game studio that collaborated on America's Army, has partnered with the Department of Homeland Security on Zero Hour: America's Medic. Training first responders for real-life natural disasters and terrorist attacks is the idea, but anyone can jump in and play through the realistic scenarios. Utilizing Epic Games' Unreal Engine 3 technology, players assume the role of an EMT and encounter scenarios that could occur in real life.
The objective is to assess the problem and save as many lives as possible, even in the midst of major disasters like an earthquake or a lethal cyanide attack that derails a train
Interacting with patients is an essential part of Zero Hour. Players diagnose symptoms that victims report.
This process doesn't always go smoothly in chaotic conditions, and the player is often hurried on to other serious cases
In some cases, what appears to be a flu can be much more severe.
Epic's Unreal Engine 3 brings out all of the details in these patients, including the red in their eyes It's important to read victims' visual cues as well as converse with them
Zero Hour trains players how to properly do things in actual emergencies, like setting up a triage area, and then throws them into virtual situations that require them to parlay those lessons into practice For instance, it's important to bring the right gear based on the information received from Dispatch in the ambulance
When a freight train derails near a heavily populated train station and releases cyanide into the air, victims run out of the station As medical commander, the player must set up a triage area and sort through these patients as quickly as possible, making sure proper treatment is administered
A succession of bombs go off during the early innings of the St. Lillo Lions home baseball game.
Firefighters alert the player that radioactivity is present Amid extreme chaos -- and quickly -- the player must set up a triage area a safe distance away from the scene and treat victims of the dirty bomb
An earthquake has turned buildings to rubble Setting up a safe haven for treatment as aftershocks roll through the disaster scene means treating the victims strewn throughout the area is extremely urgent
Players arrive at each scene as EMTs inside an ambulance responding to a disaster call Dispatch They must use pertinent information from Dispatch to assess the correct gear for each situation, as they see quake damage unfolding from the vehicle
The city of St.
Lillo doesn't exist, but it's based on real US cities Virtual Heroes worked with EMT personnel in urban hubs like Boston and New York City to add a flavor of those locales to the game, and elements of Los Angeles, Chicago and San Francisco were blended in
In this Aug.
7, 2007, file photo a worker in protective clothing directs the loading of a dead cow into a truck at a farm outside Normandy, south England, where tests confirmed a second outbreak of foot-and-mouth disease According to a report released Friday, June 20, 2008, by the Department of Homeland Security the economic risk of an outbreak of foot-and-mouth disease could surpass $4 billion if the current US research lab of such dangerous pathogens on Plum Island, NY, was moved to the US mainland, near livestock herds in Kansas or Texas, two options the Bush administration is considering (AP Photo/Lefteris Pitarakis, File)
Foot-and-mouth research likely to move INLAND USA - Associated Press April 18, 2008
STMicro launches chip to detect bird flu

'STMicroelectronics, a worldwide leading supplier of Radio Frequency Identification (RFID) chips, is committed to high volume/low cost market'
Government Report Answers WHO LIVES, WHO DIES IN FLU PANDEMIC - Fox News, May 05, 2008
The government acknowledged that an outbreak of one of the most contagious animal diseases from any of five locations being considered for a new high-security laboratory - an event it considered highly unlikely - would be more devastating to the U. S. economy than an outbreak from the isolated island lab where such research is now conducted.
- Associated Press Jun 21, 2008
..
RFID Inventor Carl Sanders warns us of the EVIL PLAN TO INJECT EVERY SINGLE ONE OF US WITH THE MARK OF THE BEAST
*****************************************
New Report On Bio-War Lab Danger
*****************************************
By Shaun Waterman
UPI Homeland and National Security Editor
Washington (UPI) Jun 23, 2008
Although the risks of an outbreak from a proposed new US secure bio-defense and agricultural disease research lab are very low, the consequences would be worse at one of the mainland sites officials want than on the island where the work is currently done, says a draft report from the Homeland Security Department
The department wants to build the new lab, dubbed the National Bio and Agro-defense Facility, at one of five potential mainland sites, but is also evaluating the existing site of the lab it would replace, the aging Plum Island Animal Disease Center, in New York state's Long Island Sound
Read The Rest HERE
*********************************************************
Are You Ready for a Bioweapons Lab in Your Town?
*********************************************************
iO9
Jun 24 2008
http://io9. com/396898/are-you-ready-for-a-bioweapons-lab-in-your-town
In its ongoing efforts to stamp out all things terror-related, the US Department of Homeland Security has just released a giant report on its plans to build a mega bio-defense lab where scientists will study the Earth's deadliest diseases for humans and animals.
Basically, it will be a real-life version of that lab you saw in the recent A&E revamp of The Andromeda Strain Sounds awesome, right? The problem is that disease leaks from the lab are not entirely unlikely, according to the report
According to UPI:
The department also assessed the possibility of a terrorist attack releasing pathogens from the lab — which will work on the most infectious animal diseases, like Foot and Mouth; and on those most deadly to humans, like the Hendra and Nipah viruses The overall risk assessment for a release at the five mainland sites was "moderate" because of "the potential easy spread of a disease through livestock or wildlife" nearby, the statement said
The new lab, to be built in 2010, will replace an existing bio-defense lab on Long Island. That lab, called the Plum Island Animal Disease Center, is outdated and no longer useful. DHS wants its researchers to study "zoonotic diseases" that hop from animals to people (can you say "bird flu"?), and to do that they need a facility at "bio-security level 4," the highest level.
Plum Island only goes up to level 3 About ten percent of the new facility will be at level 4
DHS is currently considering five possible sites in the mainland United States They'd better hope nobody in those towns has read The Hot Zone or seen 28 Days Later
******************************************************************
Emergent BioSolutions angles for new anthrax vaccine deal
******************************************************************
Rockville company pays $2M-plus for rival's candidate
Gazette Staff
Friday, May 9, 2008
Emergent BioSolutions this week reported solid earnings and acquired a new, developmental type of anthrax vaccine to complement its own version that it already sells to the federal government
The Rockville company this week reported a first-quarter profit of $7.0 million, versus a net loss of $2.7 million a year ago.
Revenues grew to $427 million from $264 million, mostly from higher sales of its lead product, BioThrax
Emergent has a $448 million contract with the Department of Health and Human Services to supply 18.75 million doses of its BioThrax vaccine — the only one approved by the Food and Drug Administration — for the Strategic National Stockpile of biodefense measures.
It has been administered to almost 2 million members of the US military, according to company information
The new vaccine, based on a recombinant protective antigen, was purchased for $2 million from a competitor, VaxGen Inc of San Francisco The deal also includes $8 million in certain milestone payments to VaxGen, plus a percentage of sales
Read The Rest HERE
http://www. gazette. net/stories/050908/businew183019_32365. shtml
PDF – UK's EMERGENCY CONTINGENCY PLAN FOR FOOD AND MOUTH DISEASE USA IS MODELLED AFTER (Sept 18 2001)
What is RFID chip?
**************************************************
Will Bird Flu Scare You into Getting Chipped?
**************************************************
Beware! Americans are being prepped for a big health crisis that could scare them into lining up for a VeriChip
Liz McIntyre
December 21, 2005
http://www. spychips. com/blog/2005/12/will_bird_flu_scare_you_into_g_1. html
In a new AP article out today, a "government advisor" is painting a bleak picture of America under seige by the bird flu.
He claims that people might be too sick or too scared to go to work, companies could go bankrupt, and citizens might not have basic necessities Here's a snippet from that article, titled "Few companies prepared for a flu pandemic":
Public health specialists and the government are pressuring businesses to prepare for a worldwide outbreak of the bird flu or some other superstrain of influenza, a crisis that could bankrupt many companies if their workers are too sick or scared to show up and their supply chains disappear
The concern isn't just because of economics, but because many companies provide products and services that people literally can't live without, said Michael Osterholm of the University of Minnesota, who advises the government
"Automobiles, jewelry and electronics will not be big ticket items" during the next flu pandemic, Osterholm notes.
"We still have to feed people How do we assure we have heat, fuel oil, electricity?"
Of course VeriChip board member and spokesperson Tommy Thompson is very concerned about this scenario, too. So much so, that he and his new Deloitte & Touche health think tank commissioned a survey to prove how ill prepared companies are for this questionable disaster on the horizon.
According to the article, the survey will be unveiled behind closed doors to 25 companies and health officials this Friday
Can't you see this drama leading to the suggestion that Americans get chipped as a way to keep us all safe in the impending crisis? I'm predicting the chip will be touted as a way to keep tabs on those who are sick so they can't infect you or your loved ones--and even protect you in your time of need should you become ill and be unable to speak in the event of an emergency
Something's up
According to some doctors and researchers, the bird flu is not the contagion health spokespeople would like you to think Check out these links for other viewspoints on the human risks of avian flu:
Eliminating Bird Flu Fears by Dr Sherri Tenpenny
http://www. newswithviews. com/Tenpenny/sherri4. htm
Bird Flu Doctor Says Fear is Exaggerated at the UK Times Online
http://www. timesonline. co. uk/tol/news/world/article757370. ece
Liz McIntyre
Posted by liz at December 21, 2005 11:59 AM
*******************************************
STMicro launches chip to detect bird flu
*******************************************
Reuters
Mon Mar 24, 2008
SINGAPORE (Reuters) - Europe's top semiconductor maker, STMicroelectronics, said it has developed a portable chip to detect influenza viruses including bird flu in humans
The device, which functions as a mini laboratory on a chip, can screen and identify multiple classes of pathogens and genes in a single diagnostic test within two hours, unlike other tests available on the market that can detect only one strain at a time and require days or weeks to obtain results
The chip can differentiate human strains of the Influenza A and B viruses, drug-resistant strains and mutated variants, including the Avian Flu or H5N1 strain
There have been 236 human deaths globally from the H5N1 strain, according to the World Health Organisation, though it remains mainly a bird virus
"ST sees new high growth opportunities in the healthcare market, especially in areas like patient care," said Francois Guibert, STMicro's Asia Pacific chief executive, at a briefing in Singapore on Monday marking the commercial launch
Read The Rest HERE
http://www. reuters. com/article/technologyNews/idUSSIN21726520080324?feedType=RSS&feedName=technologyNews&sp=true
Government Report Answers Who Lives, Who Dies in Flu Pandemic - May 5, 2008
Study shows hybrids of bird flu and human flu viruses fit well, could occur - June 2, 2008 Canadian Press
US Center Of Disease And Control Finds Some Bird Flu Strains have Acquired Properties that Might Enhance Potential to Infect Humans - June 10, 2008 CDC
Tyson Foods Inc. has begun killing and burying the carcasses of 15,000 hens from a flock that tested positive for exposure to a strain of the bird flu in northwest Arkansas - 6/3/2008 USA Today
Hong Kong reportedly culls chickens (2700 slaughtered) , bans imports Fears over bird flu spark precautionary moves - June 9, 2008 Market Watch
H7N3 Isolation in Arkansas Increases Surveillance Concerns - June 11, 2008
Suspect Fujian H5N1 in North Korea Patients - June 11, 2008

Israel H5N1 Matches Vaccine Resistant Egyptian Strain April 14, 2008
Bird flu may mutate to human form in Indonesia - Reuters Mar 18, 2008
AP Report On RFID Chips And CANCER Raises Concerns
From Atlanta - Avian flu viruses of the H7 subtype have adapted, at least partially, to more easily invade the human respiratory tract Scientists examining cases of human infection found that the H7N2 type bound more easily to receptors in the lining of the human respiratory tract, and decreased binding to the receptor cells in birds While symptoms of H7 viruses have typically been mild, scientists continue to urge the development of vaccines for this subtype
I dont know about you, but something is telling me this goddamn US government is about to spray something all over US through chemtrails and drinking water - forget about those salmonella infested tomatoes, H5N1, H7N2, H7N3 (human engineered) avian flu are now spreading and everyone will beg to get RFID chipped or get quarrantined and thrown into FEMA furnaces - stock up on COLLOIDAL SILVER, as that is one of the best known viral-killer out in the market
Will Bird Flu Scare You into Getting Chipped? (MySpace seems to have banned this link in SpyChips. com - Google the article name if link does not work
Using RFID tags to track bird flu

STMicro launches speedy chip to detect bird flu

Or just google ''RFID avian flu'' you will get TONs of articles selling the Orwellian RFID chip technologies
IBM - Avian Flu Innovations
YES IBM ENGINEERED THE NAZI PRISONER PUNCH CARDS SYSTEM (WATCH VIDEO BELOW) AND WILL PUSH FOR RFID MICROCHIPPING THE POPULATION TO USHER IN A CASHLESS SLAVERY SOCIETY (NOT WITHOUT A BIG FEMA DISASTER PANDEMIC OF COURSE)
IBM, VeriChip, The 4th Reich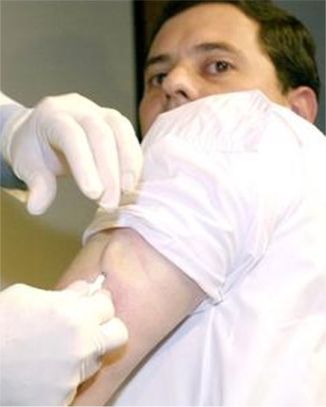 There is NO DIFFERENCE between NAZI PRISONER TATTOO and RFID CHIP INJECTIONS!!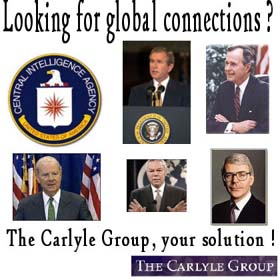 IBM is closely associated with the Carlyle Group (board members GEORGE BUSH SENOR and JAMES BAKER) and
Carlyle Group's subsidiary MATRICS
is manufacturing RFID IMPLANTABLE CHIPS to be injected into all of you IN CASE OF A NUCLEAR DISASTER OR PANDEMIC FEMA ROUNDUP! James Baker is associated with ROLAND CARNABY, the CIA agent who was killed by HOUSTON POLICE for chasing after ISRAELI MOSSAD SUITCASE NUCLEAR BOMB – PIECE THE PUZZLE TOGETHER AMERICANS YOU ARE IN A LOT OF TROUBLE
**************************
Hollywood Illuminati Warnings
**************************
The Happening - Trailer (2008)
Bees in the world vanished, Something in Philadelphia is making people kill themselves and the phenomenon is believed to be caused by an airborne virus, A group of characters believe rural areas to be safe until they see a group of people who have hanged themselves, Attempts to seal up the car prove futile, and the driver rams the vehicle into a tree, The only survivor is John Leguizamo's character who proceeds to slit his own wrists - WTF!
I Am Legend (2007) - Will Smith the last survivor in NYC after a deadly virus attack
Outbreak (1995) - Virus Pandemic
This is not just about nuking another innocent country in the name of defending our 'best friend' Zionist State Israel, this is largely about coming up with a good excuse to again initiate a MASSIVE false flag event on US soil so FEMA continuity of government REX-84 can take place
The HEGELIAN PRINCIPLE and Jesuit Order motto says it all - Ordo Ab Chao - Order Out Of Chaos, Offer the SOLUTION to the problems they have created
In the eyes of the elitist bankers you are consuming THEIR foods, water, goods, using THEIR phoney invention US GREENBACK PAPER MONEY, and they do not need you any more because you are now useless unproductive credit swiping WASTEFUL EATERS dwelling in a BANKRUPT ECONOMY and USA like any bankrupt corporation must be DISMANTLED and re-organized, and STOCKS LIKE YOU MUST BE DUMPED
The will be no more US soldiers to protect the US because they are all shipped to the meat grinder overseas, poisoned by Halliburton KBR water food supply and killed by depleted uranium and biochemical weaponry, while FOREIGN UN NWO troops will all come in and rush the wasteful Americans to the prison camps during a MASSIVE REX-84 Continuity of Government FEMA disaster, get quarrantined, RFID chipped, and executed
U. S. Capitol Bomb Squad: Green, Looking to Quit - Wired. com 6-24-08
*************************************************************
Internal documents:Capitol ill-prepared for bomb attack
*************************************************************
The Hill
By Jordy Yager
Posted: 06/23/08
http://thehill. com/leading-the-news/doubts-over-bomb-squad-2008-06-23. html
A future terrorist attack on the US Capitol is highly probable, and Congress's specialized bomb squad is unlikely to be able to deal with it, according to internal US Capitol Police documents obtained by The Hill
The unclassified internal letters and memos, written by Capitol Police captains, lieutenants, and sergeants between 2005 and 2007, detail more than three years of complaints to their superiors about the Hazardous Devices Unit's lack of vehicles, its desire for more frequent training and the inadequate level of experience of bomb technicians within the specialty unit
A suicide bombing or a car bomb are "the two major threats to the United States Capitol complex and the Congressional community," according to a memo from mid-2006 While Washington, DC, has not experienced the effects of such attacks, "the possibility that one of these two techniques may be used remains quite high and could become a reality"
Read The Rest HERE
CIA veteran official and whistleblower Ray McGovern
Scott Ritter - UN Weapons Inspector: US cities will have to get NUKED if we attack IRAN
..
Scott Ritter and Ray McGovern on the Occupation of Iraq - The chief US weapons inspector in Iraq during the period leading up to the 2003 US invasion (and also a Republican and a former US Marine officer), Scott Ritter is in a unique position to know first-hand about the adminstration's lies about WMD He here delivers a scathing indictment of US Iraq policies, and of the passivity of the US public and political system in condoning them He's followed by 27-year-CIA veteran Ray McGovern, who elaborates on Ritter's indictment
***********************************
Bomb Iran? What's to Stop Us?
***********************************
Ray McGovern (Former CIA officer)
June 20, 2008
Unlike the attack on Iraq five years ago, to deal with Iran there need be no massing of troops And, with the propaganda buildup already well under way, there need be little, if any, forewarning before shock and awe and pox – in the form of air and missile attacks – begin
This time it will be largely the Air Force's show, punctuated by missile and air strikes by the Navy Israeli-American agreement has now been reached at the highest level; the armed forces planners, plotters and pilots are working out the details
Emerging from a 90-minute White House meeting with President George W Bush on June 4, Israeli Prime Minister Ehud Olmert said the two leaders were of one mind:
"We reached agreement on the need to take care of the Iranian threat I left with a lot less question marks [than] I had entered with regarding the means, the timetable restrictions, and American resoluteness to deal with the problem George Bush understands the severity of the Iranian threat and the need to vanquish it, and intends to act on that matter before the end of his term in the White House"
Does that sound like a man concerned that Bush is just bluff and bluster?
A member of Olmert's delegation noted that same day that the two countries had agreed to cooperate in case of an attack by Iran, and that "the meetings focused on 'operational matters' pertaining to the Iranian threat" So bring 'em on!
A show of hands please How many believe Iran is about to attack the US or Israel?
Read The Rest HERE
When shit hits the fan in MAJOR US CITIES and everyone starts looking for someone to blame, look no further than this fancy little building
**********************************************************
1000 US Nuclear weapons parts missing, Pentagon says
**********************************************************
Demetri Sevastopulo
Financial Times
Thursday, June 19, 2008
The US military cannot locate hundreds of sensitive nuclear missile components, according to several government officials familiar with a Pentagon report on nuclear safeguards
Robert Gates, US defence secretary, recently fired both the US Air Force chief of staff and air force secretary after an investigation blamed the air force for the inadvertent shipment of nuclear missile nose cones to Taiwan
According to previously undisclosed details obtained by the FT, the investigation also concluded that the air force could not account for many sensitive components previously included in its nuclear inventory
One official said the number of missing components was more than 1,000
The disclosure is the latest embarrassing episode for the air force, which last year had to explain how a bomber mistakenly carried six nuclear missiles across the US The incidents have raised concerns about US nuclear safeguards as Washington presses other countries to bolster counter-proliferation measures
Read The Rest HERE
Pentagon admitted 'MISTAKE' for shipping NUCLEAR MISSILE FUSES to Taiwan when all the island nation asked for were HELICOPTER parts, further enraging Taiwan's arch enemy CHINA - Mar 25, 2008
..
The LARGEST nuclear power plant in USA - Palo Verde Arizona was 'BREACHED BY TRUCK BOMB' 50 miles west of Phoenix, AZ, 'POSSIBLY BY IRANIAN TERRORIST' - Nov 2007
Palo Verde software is breached - Ex-employee used it during trip to Iran, officials say - Apr 21, 2007
All signs are converging as we are nearing the election season with MOUNTING threats from the press added by the intensifying Homeland Security FEMA 'DISASTER' drills nationwide, you would be an ignorant fool to believe this New World Order secret government has nothing in store for American families
Associated Press: LOOSE NUKE WARGAME ERROR - A B-52 bomber 'mistakenly' loaded with five nuclear warheads (later found out ONE WAS MISSING) flew from Minot Air Force Base, N. D., to Barksdale Air Force Base, La., on Aug. 30 2007

Below are just a few of the airmen who mysteriously died of 'ACCIDENTS' and 'SUICIDES' soon after the B-52 Minot-Barksdale nuclear incident



Charles D Riechers



Russell E Dougherty



Adam Barrs




IMPORTANT READ - Missing B-52 Nukes: Treason Of The Highest Order – Global Research Oct 29, 2007 (Read the details of all the dead Air Force personnel)

Interview with Jack Carter (Air Force airman pseudonym):
What really happened at Minot Air Force Base In August 2007

Air Force Times official explanation:B-52 'mistakenly' flies with nukes aboard



USA B-52 bomber carried 6 thermal nuclear cruise missiles from Minot AFB North Dakota to Barksdale AFB Louisianna 'by accident' Aug 2007

Air Force Airmen 'Mysterious' Deaths After Aug 2007 B-52 Minot Barksdale incident - David Lindorff


CNN report on the B-52 incident


Dave Lindorff investigative reporter at 9-11 Truth Rally: Are the Nukes on that B-52 for Iran


************************************************************
B-52 Nukes Headed for Iran:
Air Force refused to fly weapons to Middle East theater
************************************************************

Global Research
by Wayne Madsen
September 27, 2007

B-52 Nukes Headed for Iran, Not For Decommissioning: Airforce Refused

Air Force refused to fly weapons to Middle East theater
By Wayne Madsen
Sept 24, 2007
Author's website

WMR has learned from US and foreign intelligence sources that the B-52 transporting six stealth AGM-129 Advanced Cruise Missiles, each armed with a W-80-1 nuclear warhead, on August 30, were destined for the Middle East via Barksdale Air Force Base in Louisiana

However, elements of the Air Force, supported by US intelligence agency personnel, successfully revealed the ultimate destination of the nuclear weapons and the mission was aborted due to internal opposition within the Air Force and US Intelligence Community

Yesterday, the Washington Post attempted to explain away the fact that America's nuclear command and control system broke down in an unprecedented manner by reporting that it was the result of "security failures at multiple levels" It is now apparent that the command and control breakdown, reported as a BENT SPEAR incident to the Secretary of Defense and White House, was not the result of a command and control chain-of-command "failures" but the result of a revolt and push back by various echelons within the Air Force and intelligence agencies against a planned US attack on Iran using nuclear and conventional weapons

The Washington Post story on BENT SPEAR may have actually been an effort in damage control by the Bush administration WMR has been informed by a knowledgeable source that one of the six nuclear-armed cruise missiles was, and may still be, unaccounted for In that case, the nuclear reporting incident would have gone far beyond BENT SPEAR to a National Command Authority alert known as EMPTY QUIVER, with the special classification of PINNACLE

Read the rest HERE



The 'official' flight path of the B-52 'accidentally' carrying 6 LIVE nuclear missiles across the US Aug 2007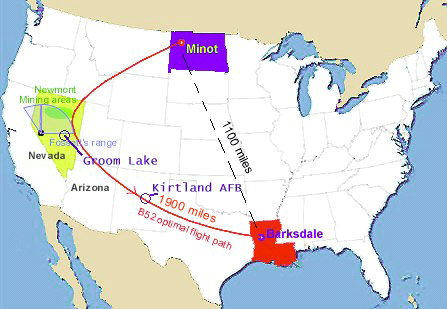 After calculating the flight speed this is a more plausible path, 'pit stop' in Nevada

Interesting blog - "A VIEW TO A KILL":STEVE FOSSET,A BROKEN ARROW&THE 3rd FEMA SCENARIO AFTER 9/11



Snow gone, rugged Nevada search for Fossett resuming - Associated Press June 11, 2008


Search for Steve Fossett, who disappeared in Nevada Sep 3, 2007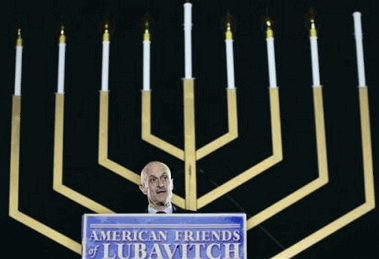 HOMELAND SECURITY CHIEF MICHAEL CHERTOFF: I AM A DUAL US-ISRAELI CITIZEN AND CERTIFIED MOSSAD SPY I CAN GIVE A DAMN ABOUT STUPID AMERICANS WHO HAVE NO IDEA USA WILL DIE FOR ISRAEL - IN THE FEMA CAMPS YOU GO!


http://anthonyhmura. blogspot. com/

Zionist NeoCon moles in the Pentagon are manipulating US intelligence and warplannings to build a case for nuking Iran, and this will ultimately require the false flag terrorism of NUKING MAJOR US CITIES!

You can thank Zionist spies (especially) with DUAL US-ISRAELI CITIZENSHIPS and close relations with the Zionist state Israel such as Richard Perle, Marc Grossman, Paul Wolfowitz, Douglas Feith for bringing US to the brink of nuclear holocaust, and another Israeli MICHAEL CHERTOFF director of HOMELAND SECURITY for dragging your families into FEMA PRISON CAMPS!

We got probably 2 months left to realize it is all too late!



Americans will DIE for the Holyland


Project CHECKMATE - Israelis Use Pentagon To Plan Iran Bombing


FBI whistleblower Sibel Edmonds - Zionist NeoCons, Israel, Turkey secret military alliance (she is the most gagged person in the USA for what she knows about the dangerous criminal government secrets even protected by the supreme court) - Clip from 'Kill The Messenger' Sibel Edmonds' story (full feature censored by Google)www. justacitizen. com


Sibel Edmonds - Rogue operations in US government beyond the constitution


The Transparent Cabal, Neoconservative Agenda, Israel War


Bush: Bombing Iran rediculous and ALL OPTIONS OFF THE TABLE


**********************************************************
Secret US air force team to perfect plan for Iran strike
**********************************************************

Sunday Times UK
Sarah Baxter, Washington
September 23, 2007


THE United States Air Force has set up a highly confidential strategic planning group tasked with "fighting the next war" as tensions rise with Iran

Project Checkmate, a successor to the group that planned the 1991 Gulf War's air campaign, was quietly reestablished at the Pentagon in June

It reports directly to General Michael Moseley, the US Air Force chief, and consists of 20-30 top air force officers and defence and cyberspace experts with ready access to the White House, the CIA and other intelligence agencies

Detailed contingency planning for a possible attack on Iran has been carried out for more than two years by Centcom (US central command), according to defence sources

Checkmate's job is to add a dash of brilliance to Air Force thinking by countering the military's tendency to "fight the last war" and by providing innovative strategies for warfighting and assessing future needs for air, space and cyberwarfare

Read The Rest HERE

6 fully loaded nuclear cruise missiles carried from North Dakota to Louisiana dangling on the frail B-52 wingtip on launch positions, then more than 6 Air Force personels and high ranking officials mysteriously died soon after the incident - Nuclear missile parts shipped to China's arch enemy Taiwan despite Taiwanese official's protest for a WHOLE YEAR (they only wanted HELICOPTER PARTS!) last but not least, CIA agent Roland Carnaby was shot dead by Houston cop while chasing after Israeli Mossad suitcase nukes

You tell me, with all these crazy incidents happening since last year, would you not resign because you are working for APOCALYPTIC NUTJOBS IN THE BUSH ADMINISTRATION?

I CERTAINLY WOULD CALL IT QUITS! AND BLOW SOME WHISTLE TO WARN US CITIZENS OF A MASSIVE NUCLEAR TERROR ON US SOIL! YOU ALL SHOULD BE VERY SCARED RIGHT NOW BECAUSE SOMETHING IS TELLING ME A HORRIFIC ACT IS BEING PLANNED!!

The Mystery of Minot: Loose NUKES and a cluster of dead AIR FORCE AIRMEN raise troubling questions - Dave Lindorff Global Research - November 25, 2007




Air Force Secretary Michael Wynne, center, joins President Bush at the Air Force Academy commissioning ceremony on May 28 in Colorado Springs, Colo Sources say Wynne and Chief of Staff Michael Moseley are resigning

***************************************
Top two Air Force officials resigning
***************************************

The two are asked to step down after a mistaken warhead shipment

Associated Press
June 5, 2008

WASHINGTON - Defense Secretary Robert Gates ousted the Air Force's top officials Thursday, holding them to account in a historic military shake-up for failing to ensure the security of sensitive materials, including nuclear missile warhead fuses that were mistakenly shipped to Taiwan

Gates announced at a Pentagon news conference that he had accepted the resignations of Air Force Chief of Staff Gen Michael Moseley and Air Force Secretary Michael Wynne — a highly unusual double firing

Gates cited two embarrassing incidents in the past year In one, a B-52 bomber was mistakenly armed with six nuclear-tipped cruise missiles and flown across the country without anyone realizing nuclear weapons were aboard

In the other, four electrical fuses for ballistic missile warheads were mistakenly sent to Taiwan in the place of helicopter batteries Gates said an internal investigation found a common theme in the B-52 and Taiwan incidents: "a decline in the Air Force's nuclear mission focus and performance"

Trouble at the top

More than the other military branches, the Air Force in recent years has endured trouble at the top Still, it is extremely rare for a service to lose its most senior uniformed and civilian leaders at the same time There was no immediate word on who would be nominated to succeed Moseley and Wynne

Gates last week told Wynne to fire Moseley but Wynne refused, sources told NBC News As a result, Gates took the unprecedented step of asking both men to resign

Word of the resignations was first reported by InsideDefense. com and the Air Force Times earlier Thursday




In another embarrassing setback, this one last August, a B-52 bomber was mistakenly armed with six nuclear-tipped cruise missiles and flown across the country The pilot and crew were unaware they had nuclear arms aboard

Read The Rest HERE

**************************************************
NOW FROM THE AIR FORCE TIMES:

**************************************************
New response teams for chem, nuke attacks
**************************************************

Guard, active duty from all branches could be tapped

Air Force Times
By Seamus O'Connor - Staff writer
Posted : Sunday Jun 1, 2008 9:09:14 EDT

Northern Command will stand up new units to respond to chemical, biological, radiological, nuclear or high-yield explosive — CBRNE — attacks

Currently, if such an attack proved more than local emergency crews could handle, governors could call in National Guard Weapons of Mass Destruction Civil Support Teams

Read The Rest HERE



CIA Agent Chasing Israeli "Suitcase Nuke" in Houston, Killed by Police – Hal Turner May 1, 2008

Top 3 False Flag 'Terror' Event Prospect US Cities - Houston, Chicago, Portland

..
B52 mystery plane - missing nukes

**********************************************
US terror attack seen apt to follow '08 vote
**********************************************

Washington Times
By Rowan Scarborough
May 25, 2008

http://washingtontimes. com/apps/pbcs. dll/article?AID=/20080525/FOREIGN/541243918/1001&template=printart




**************************************************
Nuclear attack on DC a hypothetical disaster
**************************************************

Washington Times
By Gary Emerling
April 16, 2008

A nuclear device detonated near the White House would kill roughly 100,000 people and flatten downtown federal buildings, while the radioactive plume from the explosion would likely spread toward the Capitol and into Southeast DC, contaminating thousands more

The blast from the 10-kiloton bomb — similar to the bomb dropped over Hiroshima during World War II — would kill up to one in 10 tourists visiting the Washington Monument and send shards of glass flying the length of the National Mall, in a scenario that has become increasingly likely to occur in a major US city in recent years, panel members told a Senate committee yesterday

"It's inevitable," said Cham E Dallas, director of the Institute for Health Management and Mass Destruction Defense at the University of Georgia, who has charted the potential explosion's effect in the District and testified before a hearing of the Senate Committee on Homeland Security and Governmental Affairs "I think it's wistful to think that it won't happen by 20 years"

The Senate committee has convened a series of hearings to examine the threat and effects of a terrorist nuclear attack on a US city, as well as the needed response

Yesterday's panel stressed the importance of state and local cooperation with federal authorities in the wake of an attack, assistance from the private business sector to aid recovery and the dire need to boost the capabilities of area hospitals

Read The Rest HERE

Why are politicians and news media making recent ominous statements about US cities getting nuked? What do the Zionist NeoCon network know that we don't? Are thermal nuclear weapons ALREADY placed in major US cities, unbeknownst to the oblivious public, who continue to live their daily lives, ignoring the mounting evidence that 9-11 was an INSIDE JOB?

Somebody should REALLY investigate the murder case of CIA agent Roland Carnaby, who was shot dead by Houston Police Department while was allegedly chasing MOSSAD ISRAELI SUITCASE NUCLEAR WEAPON



************************************************************
Gingrich: Supreme Court decision 'could cost us a city'
************************************************************

By David Edwards and Andrew McLemore
15 June 2008

http://rawstory. com/news08/2008/06/15/gingrich-supreme-court-decision-could-cost-us-a-city/

Former Speaker of the House Newt Gingrich said that the Supreme Court decision to allow enemy combatants to challenge their detention could lead to the nuclear destruction of a US city

The decision marked the third time that the Supreme Court has ruled against the Bush administration's handling of the Guantanamo prisoners, The New York Times reported Friday

Gingrich referenced a Sunday morning story about a smuggling ring that obtained a design for a nuclear weapon as evidence that local judges should have no say over matters of national security

"To turn over to a local district judge decisions of national security and life and death that should be made by the president and congress is the most extraord
Labels: The Truth Is Out There