RE: ~~~Mega Post #4~~~
----------------- Bulletin Message -----------------
From:
Brian CNN SUCKS!!! [RONPAUL2008.COM]
Date: Dec 9, 2007 10:39 PM
----------------- Bulletin Message -----------------
From:
SafetyJoe [Ron Paul 2008]
Date: Dec 9, 2007 10:20 PM
Ron Paul supporters, please repost!
----------------- Bulletin Message -----------------
From:
Donate at ronpaul2008 on December 16th.
Date: Dec 9, 2007 10:03 PM
Overseas Americans can now donate on the main website. But they aren't even aware of it yet.
This comes just in time for overseas donations to come in for December 16th money bomb.
Make sure they hear about it!
www.ronpaul2008.com
Ron Paul Group Alliance~~~~ Please Repost
----------------- Bulletin Message -----------------
From:
Flo
Date: Dec 9, 2007 9:22 PM
Ron Paul Group Alliance
http://www.meetupalliance.com:80/ronpaul2008
Ron Paul Tea Party December 16th
----------------- Bulletin Message -----------------
From:
CARLOS (RON PAUL 08!!)
Date: Dec 9, 2007 9:20 PM
Ron Paul hits bump in the road with Hispanics
----------------- Bulletin Message -----------------
From:
Flo
Date: Dec 9, 2007 9:00 PM
----------------- Bulletin Message -----------------
From:
Hispanics 4 Ron Paul 2008 (La Nueva Revolución)
Date: Dec 9, 2007 8:44 PM
For those of you who were in tune to the debate, you may have noticed that Dr. Paul got a ROUSING BOO from the audience when he spoke of engaging in free trade with Venezuela and Cuba.
It speaks mainly to the level of hatred that most south americans and cubans feel towards their respective dictators, and a Paul administration would not be condusive of a change in any of these countries.
Those of us who know Dr. Paul's foreign policy well will know why: Non intervention. Considering that these 2 countries pose absolutely no threat to the United States, there is no reason why we should be interfering (as we have and currently still do) with these countries' leaders.
McCain and Giulliani, laughing all the way, jumped at the occasion to strike back at Dr. Paul for his sudden unpopularity and lashed back by not stating what they would do, but simply condemning the leaders of these countries, hence getting a rousing applause.
Giulliani's response "oh, I agree with Huck" (he didn't get booed.) heh, (wiping sweat off brow.)
In the end, I truly think that some people simply want to be entertained, and clowns do have the greatest entertainment value. It was sad to see that the truth - and that is the possibility of the US ceasing to destabilize countries like Guatemala, Columbia, Cuba, Venezuela, etc... would not have elicited a greater response. I'm frankly quite shocked, and hope that something was lost in translation.
Trust me, this will be all over the news tomorrow. Be forewarned.
I read that Ron Paul got booed at this debate tonight
----------------- Bulletin Message -----------------
From:
Darla 4 RON PAUL
Date: Dec 9, 2007 10:09 PM
December 09, 2007 09:17 PM Eastern Time
Univision's Historic Republican Presidential Forum Creates Unprecedented Connection with Vital Hispanic Electorate
NEW YORK--(BUSINESS WIRE)--Univision Communications Inc., the nation's leading Spanish-language media company, together with the University of Miami, made history this evening with the broadcast of the first ever Republican Presidential Candidate Forum in Spanish. Univision's Forum provided a landmark opportunity for the Republican candidates to speak directly to the growing Hispanic electorate whose votes will play an important role in the next presidential election.
The 90-minute forum, moderated by Univision's award-winning network news anchors Jorge Ramos and Maria Elena Salinas, took place at the University of Miami's BankUnited Center in Coral Gables, Florida. Republican candidates Mayor Rudy Giuliani, Governor Mike Huckabee, Congressman Duncan Hunter, Senator John McCain, Congressman Ron Paul, Governor Mitt Romney and Senator Fred Thompson addressed issues of particular interest to the Hispanic community, including immigration, Latin American foreign policy, the war in Iraq, healthcare and education.
"Univision is proud of the history we made tonight: as of this evening, the 2008 presidential elections are the very first in which Spanish-speaking voters have heard directly from the candidates of both major political parties in their own language," said Joe Uva, CEO of Univision Communications Inc. "These candidate forums are a recognition of the increasingly important role Hispanic Americans play in our national politics and a product of Univision's commitment to bring the voices of our audiences into the American political dialogue."
"The University of Miami is proud to once again have been part of such an important event for the Hispanic community in this country, and we thank Univision for making this historic moment possible," said Donna E. Shalala, President of the University of Miami. "Hosting both the majority of the Republican and Democratic presidential candidates on campus has provided our students with the opportunity to experience the vital role that free and open expression and exchange of ideas plays in our democracy."
Ramos commented: "I am honored to participate in the first ever Republican Presidential Candidate Forum in Spanish. I see it as my duty to inform and make sure that every member of the Hispanic community is educated about the electoral process and the candidates in this crucial Presidential election."
"It's especially rewarding to be a part of a discussion in which our audience can hear directly from the candidates themselves, in their own words, about their positions on the issues that most directly affect their daily lives," commented Salinas.
Utilizing the company's multi-platform capabilities, the forum was also broadcast live on their AM radio network, RadioCadena Univision, and streamed on their popular website, Univision.com.
Both Univision.com and Univision Móvil featured extensive coverage of the Republican Presidential Candidate Forum. For the first time, users submitted questions to Republican candidates and posted opinions on Univision.com (Keyword: Elecciones). The candidate forum was streamed live on Univision.com, and exclusive clips can now be accessed via Univision Móvil. Online and mobile coverage of the forum is yet another source for Hispanic participation in the upcoming elections.
A full transcript, in English and Spanish, as well as photos of the event are available for download at ftp.univision.net Username: republicanforum2007 Password: univision.
Univision Communications Inc.
Univision Communications Inc. is the premier Spanish-language media company in the United States. Its operations include Univision Network, the most-watched Spanish-language broadcast television network in the U.S. reaching 99% of U.S. Hispanic Households; TeleFutura Network, a general-interest Spanish-language broadcast television network, which was launched in 2002 and now reaches 89% of U.S. Hispanic Households; Galavisión, the country's leading Spanish-language cable network; Univision Television Group, which owns and operates 64 television stations in major U.S. Hispanic markets and Puerto Rico; Univision Radio, the leading Spanish-language radio group which owns and/or operates 70 radio stations in 16 of the top 25 U.S. Hispanic markets and 5 stations in Puerto Rico; Univision Music Group, which includes Univision Records, Fonovisa Records, La Calle Records and Mexico-based Disa Records as well as Fonomusic and America Musical Publishing companies; and Univision Online, the premier Spanish-language Internet destination in the U.S. located at www.univision.com. Univision Communications also has a 50% interest in TuTv, a joint venture formed to broadcast Televisa's pay television channels in the U.S., and a non-voting 14.9% interest in Entravision Communications Corporation, a public Spanish-language media company. Univision Communications has television network operations in Miami and television and radio stations and sales offices in major cities throughout the United States.
For more information, please visit www.univision.net.
University of Miami
The University of Miami is one of the nation's leading research universities with more than 15,600 undergraduate and graduate students from around the world. Founded in 1925, UM has grown from its main campus in the city of Coral Gables to include the Miller School of Medicine campus located near downtown Miami, the internationally renowned Rosenstiel School of Marine and Atmospheric Science campus on Virginia Key, and the South and Richmond campuses in southwest Miami-Dade County. The University's vast and energetic research enterprise attracted more than $274 million in external funding in FY 2007. Its top-ranked medical school, which has internationally renowned programs in several specialties, is a key local health care resource, with its 800 faculty physicians handling 1 million patient visits annually. Led by President Donna E. Shalala, UM is accelerating its progress in all key areas, including fundraising: in 2006 the Momentum campaign reached its initial $1 billion goal 18 months ahead of schedule, and the campaign recently surpassed its subsequent $1.25 billion goal, hitting $1.31 billion. Over the past 5 years, UM's selectivity in undergraduate admissions has increased dramatically, as have the undergraduate programs, with a multitude of opportunities for undergraduates to engage in research. In addition, the University is committed to strengthening its graduate programs by increasing the number of Ph.D. candidates across the disciplines and schools. UM played host to the first-ever Presidential Debate in the State of Florida in 2004. For more information on the University of Miami, visit www.miami.edu.
http://www.businesswire.com/portal/site/topix/index.jsp?ndmViewId=news_view&newsId=20071209005069&newsLang=en&ndmConfigId=1000639&vnsId=41
illegal alien camp exposed in San Diego, CA
----------------- Bulletin Message -----------------
From:
Operation: Generation
Date: Dec 9, 2007 9:31 PM
----------------- Bulletin Message -----------------
From:
Jojo/Proud Infidel
Date: Dec 9, 2007 6:15 PM
Buck Fush And His Shock And Awe
----------------- Bulletin Message -----------------
From:
Jerry
Date: Dec 9, 2007 9:46 PM
----------------- Bulletin Message -----------------
From:
Toxic Daïsïes
Date: Dec 9, 2007 8:36 PM
Why Bush Invaded Iraq
----------------- Bulletin Message -----------------
From:
Jerry
Date: Dec 9, 2007 9:32 PM
Richard Dreyfuss on Liberty
----------------- Bulletin Message -----------------
From:
Jerry
Date: Dec 9, 2007 9:26 PM
ISRAEL WANTS WAR WITH IRAN.....Here's Proof
----------------- Bulletin Message -----------------
From:
Jerry
Date: Dec 9, 2007 9:02 PM
Inside the Iran Bamboozle
----------------- Bulletin Message -----------------
From:
shalin [ron paul 2008]
Date: Dec 9, 2007 9:46 PM
these wars for israel need to end..
----------------- Bulletin Message -----------------
From:
Compañero
Date: Dec 9, 2007 9:38 PM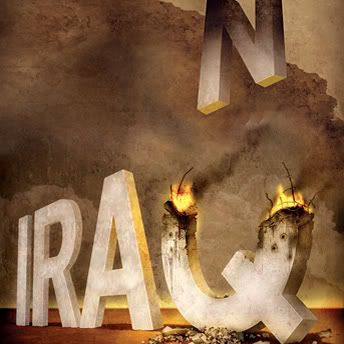 ###

Labels: gandolfo, george bush, Iran, iraq war, nucular weapons, The Truth Is Out There