RE: INCOME TAX & FILING A RETURN IS VOLUNTARY - Says the IRS!
----------------- Bulletin Message -----------------
From:
§ Lori §
Date: Feb 2, 2008 6:18 PM
From:
Pamela's Protest
Date: Feb 2, 2008 5:12 PM
INCOME TAX & FILING A RETURN IS VOLUNTARY - Says the IRS!
----------------- Bulletin Message -----------------
From:
MAX FAN (LSU/Ron Paul/Cowboys/NASCAR)
Date: Feb 2, 2008 3:04 PM
VERY IMPORTANT! PLEASE COPY & SAVE – Wesley Snipes it's VOLUNTARY!
Put this in your Freedom or Patriot folder on your computer and keep and spread!
Not only is there no law that requires the average American Citizen wage earner to pay an Income Tax, there is certainly no law that requires one to give up his 5th Amendment Constitutional Right to bear witness against himself as when he files a tax return! When you sign anything UNDER PENALTY OF PERJURY you are waving your 5th Amendment Right. YOU DO NOT HAVE TO DO THIS! Our Founders were protecting us against just such shenanigans as this.
It's like listening to a cop read you the Miranda Warning (the right to remain silent etc.) when they arrest you and you giving up those rights and talking to them. YOU ARE NOT REQUIRED BY LAW TO DO THIS! PERIOD!
The following information is directly from the Beast's mouth. These are IRS handbooks I ordered back in the early '80's. The Constitution has not changed since then, so the statements still apply. The IRS knows that they can't require you to give up your Constitutional Rights, that's why they tell you, themselves, that filing a return is voluntary! These statements are at the beginnings of each of these books or sections. They spell it out in plain English. They are hoping, I guess, that they've successfully dumbed us sheep down to the point that we don't know what voluntary means or can locate a dictionary to remind us!
Let's see what the Merriam-Webster dictionary says:
- Voluntary : proceeding from the will or from one's own choice or consent
- Compliance : a: the act or process of complying to a desire, demand, proposal, or regimen or to coercion b: conformity in fulfilling official requirements
So……….. Voluntary Compliance in these IRS matters means – fulfilling official requirements from one's own choice or consent. IT'S YOUR CHOICE!
** This first photo is from the IRS' Audit Guidelines Handbook. When they say "Service" they mean the Internal Revenue Service. The underlined parts are what is important.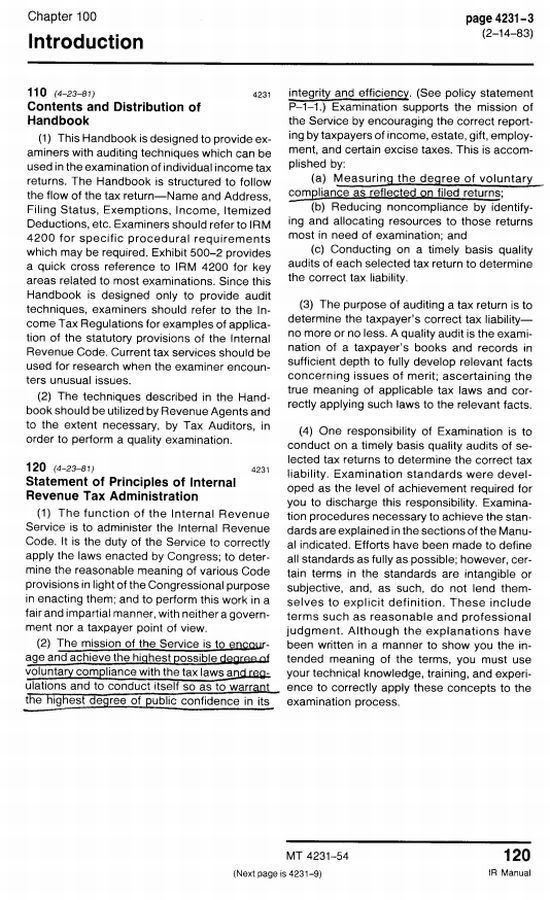 ** These next two are from their Criminal Investigations Handbook.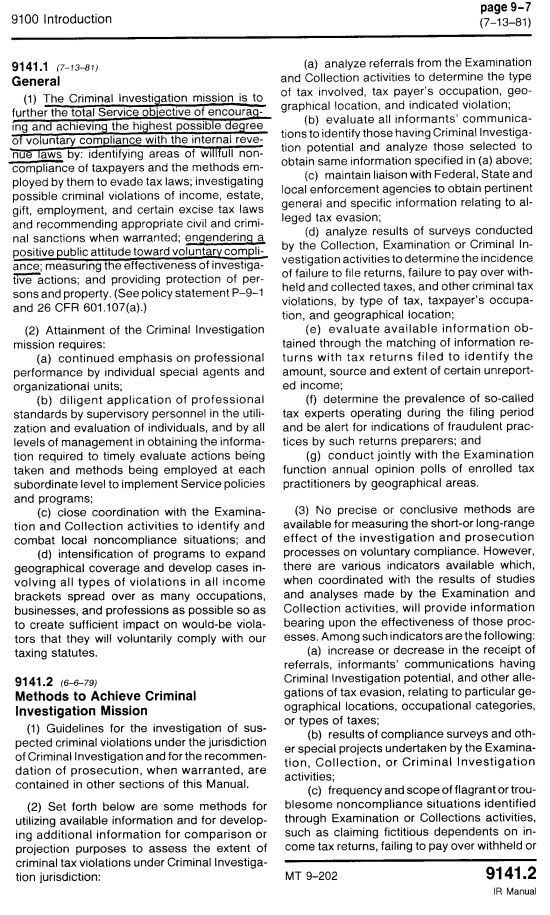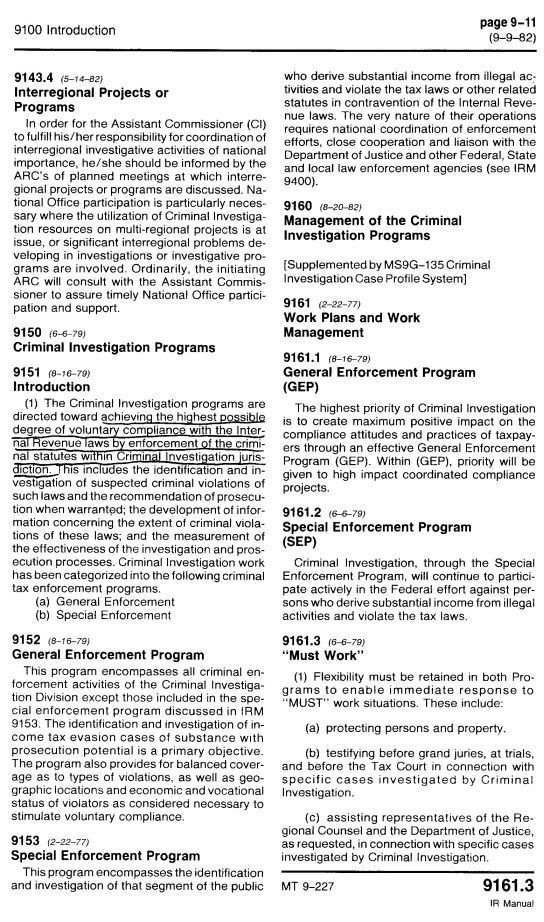 ** These next two are from their Special Agents Handbook. Remember, liquor distillers, tobacco merchants and a few others ARE required to file returns, just not us wage-earning citizens. This is where they try to confuse us. Also, the courts have ruled in tax cases that "shall" means "may." "Shall" doesn't mean "required," it means you may or you may not.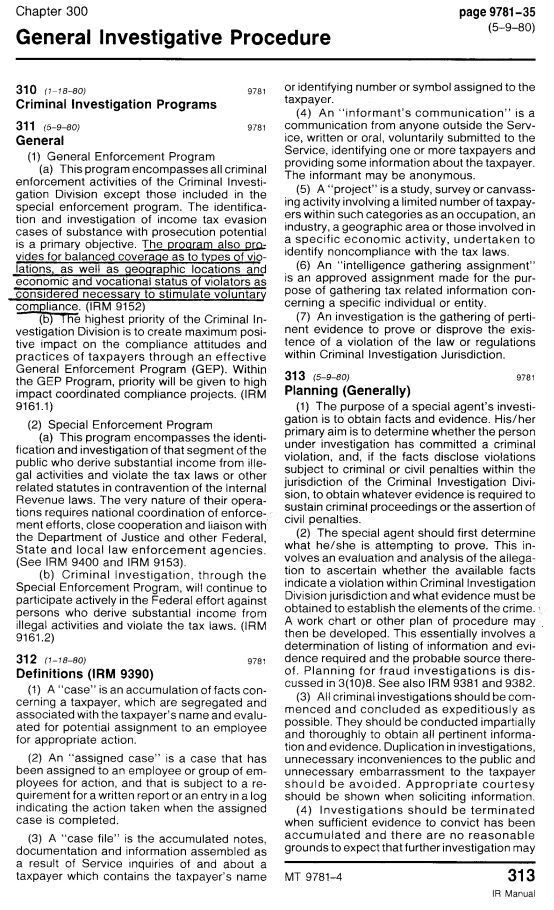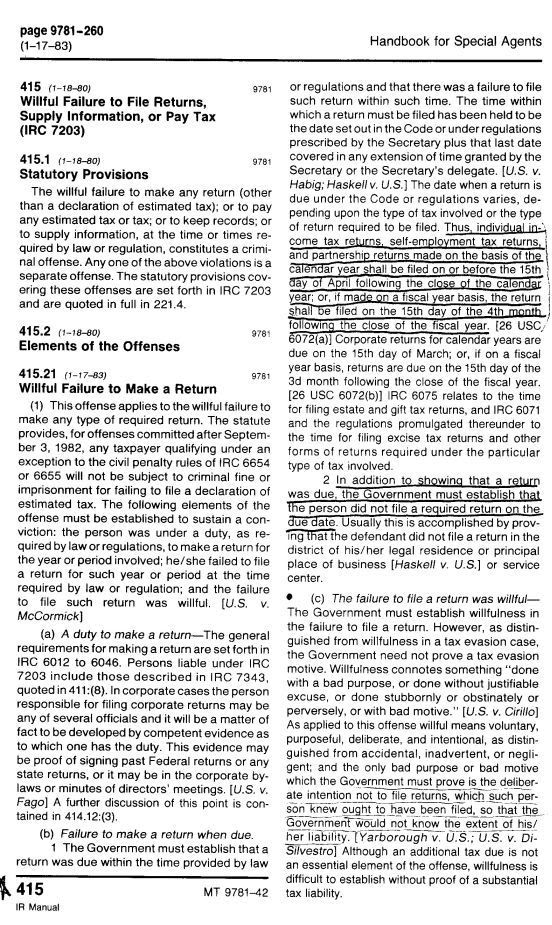 ** I wrote my senators and congressman and asked them if we were REQUIRED to file a tax return, and again, the IRS tells my congressman that it's voluntary. Can you feel the arrogance coming from this squirrel? Can you spot the lies?
** This is an article from the Wall Street Journal. Everyone knows that the Income Tax is voluntary except us sheep at the bottom, I guess! LOL Are there also penalties for not volunteering to contribute to the United Way or Toys for Tots? Can you believe the scam and smoke and mirrors that we have been living under?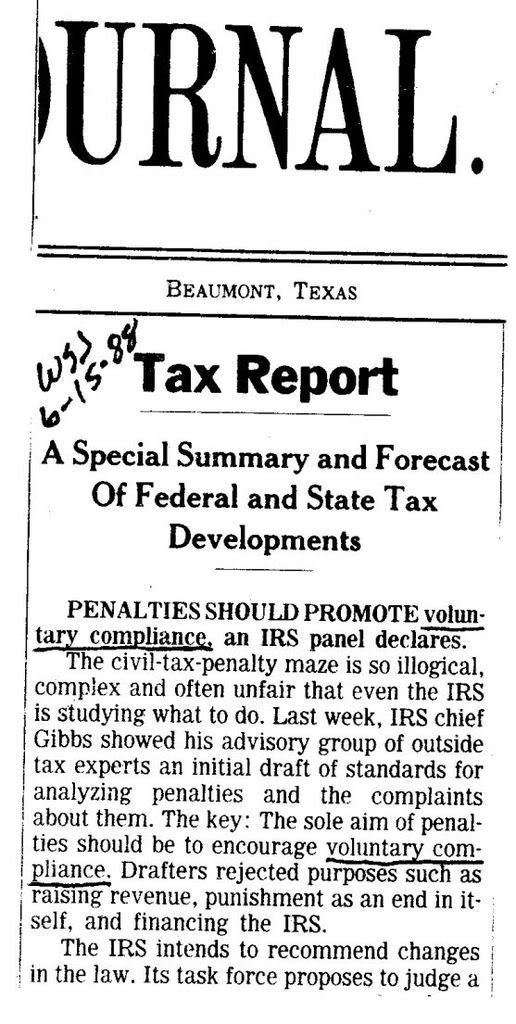 ** You will not see Voluntary Compliance attached to any "real" law. You won't find it near laws for Murder, Robbery, TREASON, Kidnapping or Traffic laws. Why? Because the United States Constitution doesn't protect us from these like it does from Bearing Witness Against Ourselves with our 5th Amendment. The IRS and Congress who writes this crap know the law, this ain't by mistake! This is by design to keep us enslaved, period! End of discussion! Please pass this on far and wide. We need to return to Constitutional government like Ron Paul espouses. Thanks.
REGISTER TO VOTE
STOP THE NATIONAL I.D.
STOP THE NORTH AMERICAN UNION!
TOM CRYER - LAWYER WHO BEAT THE IRS (Watch all 4 Videos)
Labels: irs, The Truth Is Out There