RE: Register To Vote On Myspace
----------------- Bulletin Message -----------------
From:
9/11 Research
Date: Jul 16, 2007 6:54 PM
Now You Dont Actually Have To Get Off Your Ass To Register!
We may not be electing a President this November, but important elections are happening in your state - with control of Congress, state legislatures, school boards, and more at stake. So MySpace has partnered with Declare Yourself, a national nonpartisan, nonprofit campaign to energize and empoewr you. In 2004, DY registered over a million young voters - this year, MySpace and DY are working together to make it easy for millions more to make a difference.

Whether you care about health care, job opportunities, student loans, the environment, national security, or Iraq - and whatever your positions on those issues may be - politicians need to hear from you. The more you engage, the more of a difference you can make. The first step is to make your voice heard. It's time to Declare Yourself by registering to vote, going to the polls, and making an impact.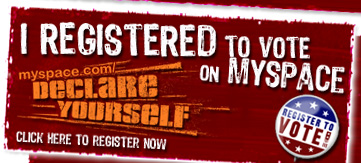 Labels: gandolfo, Register To Vote On Myspace