RE: Tunneling project surfaces in Guatemala
----------------- Bulletin Message -----------------
From:
A-Bomb
Date: Jun 7, 2007 12:16 AM
detailshere.com
members.iimetro.com.au
denverspiritualcommunity.org
ufos-aliens.co.uk
quantumlegacy.net
boring+machine+developed+at+Los+Alamos
underground+base+nuclear+tunnel
: LOOK AT THIS!! - Giant Hole in Guatemala neighborhood
200 foot deep
Hole opens in Guatemala neighborhood, 3 missing
A giant sinkhole that swallowed several homes is seen in Guatemala City February 23, 2007. REUTERS/Stringer
GUATEMALA CITY (Reuters) - Three people were missing on Friday after a 200-foot-deep hole opened up in the middle of a Guatemalan neighborhood, likely due to a burst sewer pipe.
"It sounded like a bomb was dropping. Boom!" said Carlos Gutierrez, 58, of the crater, which measured 130 feet in diameter.
The crater appeared in the capital's San Antonio neighborhood on Thursday night. Authorities evacuated hundreds of people on Friday fearing more land could collapse into a fast-flowing river of sewage below.
The missing people had lived in a house that fell into the hole. Two bodies showed up about a mile downstream.
Neighbors said the ground had been shaking for weeks after a huge sewer pipe burst, making the ground underneath the houses unstable.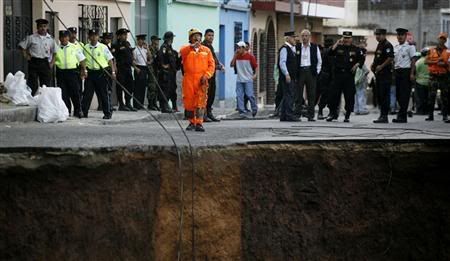 Labels: gandolfo, The Truth Is Out There