RE: The FED has STOLEN 71% of The USA's Wealth in just 95 Years
----------------- Bulletin Message -----------------
From:
Lori
Date: 11 Oct 2008, 23:25
From: Orwellian Bob
Date: Oct 11, 2008 7:30 PM
----------------- Bulletin Message -----------------
From:
Pariah [re:] (www. slaveuprising. com)
Date: Oct 11, 2008 6:25 PM
In just 95 years the FED Bankers stole 71% of our money!!
(BTW, support Congressman Ron Paul in abolishing the federal reserve....
HR 2755
http://endthefed. blogspot. com/2008/09/support-ron-pauls-federal-reserve. html
Call your reps & DEMAND they support and co-sponsor hr 2755 to Abolish the Federal Reserve System )
----------------- Bulletin Message -----------------
From: Pan Man
Date: Oct 11, 2008 7:09 PM
If you follow this article, you will discover how much trouble these con men, embezzlers and thieves have made for us and how to survive what's getting ready to happen to all of us as a result.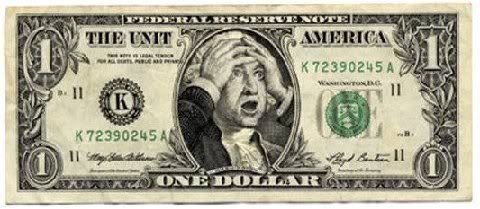 The Shrinking Value of the Dollar

The CPI inflation calculator uses the average Consumer Price Index for a given calendar year. This data represents changes in prices of all goods and services purchased for consumption by urban households. This index value has been calculated every year since 1913. For the current year, the latest monthly index value is used. In 2008, for example, it took $21.57 to buy what $1 bought in 1913. Note that in 1920, it cost $2.02, and declined in 1925 and through the 1930s, illustrating the effect of the Great Depression, when prices slumped. Prices did not pass $2 again until 1950.

Year Amount it took to equal $1 in 1913:


1913 $1. 00
1920 2. 02
1925 1. 77
1930 1. 69
1935 1. 38
1940 1. 41
1945 $1. 82
1950 2. 43
1955 2. 71
1960 2. 99
1965 3. 18
1970 3. 92
1975 $5. 43
1980 8. 32
1985 10. 87
1990 13. 20
1995 15. 39
2000 17. 39
2001 $17. 89
2002 18. 17
2003 18. 59
2004 19. 08
2005 19. 73
2006 20. 18
2007 20. 94
2008 21. 57



This is how much they stole: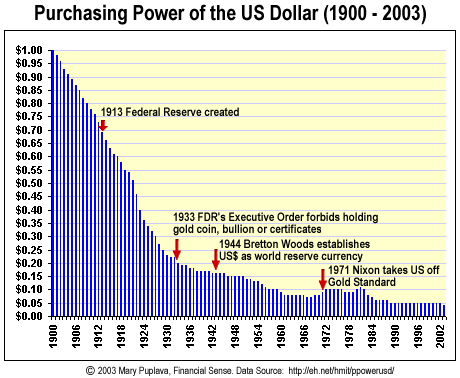 This is how MUCH MONEY THEY PRINTED:


----------------- Bulletin Message -----------------
From: jane
Date: Oct 11, 2008 6:49 PM


----------------- Bulletin Message -----------------
From: iNez
Date: Oct 11, 2008 7:36 PM


From: Peace & Freedom Are Achieved Through Understanding
Date: Oct 10, 2008 4:38 PM




This is not meant to cause fear. This is meant to let you know that with 90% probability that by the end of this year we will see an almost complete collapse of our currency which will pull everything else down with it. Our currency is tied to global markets and they are tumbling too. The economy of Iceland crashed in basically one week just a little while ago. The crash will happen quickly. When it goes, you won't have any more time. You need to prepare now. Grocery stores get shipments once or twice a week. They will be EMPTY within 2 weeks if the crash is severe, which is the way it looks. In Iceland, the shelves emptied. I mention Iceland because they were thought to be stable with one of the lowest debts in the Scandinavian countries. But the global markets pulled them down. Why do I mention the global markets? Well, there isn't going to be anyone to come to our aide. Despite pissing the entire world off in the last 20 years, their markets and currency is collapsing too.

What does this all mean? It means we are being ROBBED on a monumental scale. Who took it? The Fed. Who owns the Fed? The Member banks, some American, some European. This is modern slavery folks. Global Corporate Serfdom. This is Globalization.



These people took the value out of our money:
http://www. save-a-patriot. org/files/view/whofed. html





And this is what is happening:





A week to live in infamy (Oct.

From: Marcus
Date: 06 Oct 2008, 02:04 5 - 11, 2008)




These pixels run across my screen at 11:11 PM PST, Sunday, October 5, 2008. The bailout package was passed last Friday, the Asian markets have opened and are down 4 - 5%, and trading in the West will begin tomorrow morning. These shall prove to be unfortunate times.

Those of us who know, know that the current dollar-centered financial regime will collapse. But how? And when? It will collapse very soon, and very quickly. Tomorrow, October 6, credit default swap payments will come due on bonds issued by Fannie Mae and Freddie Mac. Not only will this begin to unwind the derivatives market (estimated in the scores and hundreds of trillions of dollars), causing its own severe havoc; but, since Fannie and Freddie were recently nationalized, it will also betray an overall lack of confidence in the US government as a fiscally credible entity.

As banks, hedge funds, pension funds, corporations and individuals become entangled in disputes over the settlement of claims and counter-claims, the basic insolvency of the US financial system will finally become apparent. Foreign banks will become seriously worried about the safety of their liquid assets and their slow-motion run on US banks will accelerate until the end.

The US system, with its blood freshly drained, will lie in a state of paralysis. Meanwhile foreign banks and investors, flush with American cash, will be falling over themselves trying to find a safe place to put it all: in other currencies, commodities and precious metals. The US will have no forex reserves with which to stem the tide, and so our national currency will face steep devaluation as the dollars come flooding back in - much like a tsunami coming in after the water got sucked out at shore.

But what does it all mean, you ask? East Asia will take its lumps and continue chugging along. The European Union will prove to be insufficiently centralized, and so - like the Articles of Confederation - it will reincarnate in a more powerful form. In the United States, the culture of consumerism will die a painful death.

At first we may experience bank holidays and credit card and ATM freezes. Certainly, basic items like food and fuel will become very expensive, municipalities will go bankrupt, the stock market will collapse, savings will be wiped out and unemployment will reach obscene heights. There is also a good chance for the rise of riots and public disorder, which would result in severe measures like the suspension of civilian rule and the cancellation of elections.

In the meantime I suggest that you beat the rush, and withdraw most of the cash from your bank accounts. Buy rice and dried beans, canned foods, bottled water, gasoline and the like - and be prepared to wait this ride out. It will be bumpy but it will also come to an end - when the world has a new reserve currency and a new financial system in place.











WE ARE ON THE EDGE OF A NATIONAL EMERGENCY
Date: 10 Oct 2008, 07:53

From: Marcus


PLEASE HEED THIS WARNING



The wheels are coming off the world economy. Every major stock market around the globe is crashing like never before in history. The Dow has lost over 230 points today, and trading just began minutes ago!

THE STOCK MARKETS ARE THE CANARY IN THE COAL MINE. The underlying problem is that the credit markets are frozen solid. At first this meant that banks were not lending to banks. Now banks are not lending to companies either. The short-term credit market has frozen in just the past couple days.

This means that:

YOUR PAYROLL CHECK COULD BOUNCE.

BANKS MAY IMPOSE WITHDRAWAL LIMITS OR GO ON HOLIDAY.

THE TRUCKERS WHO DELIVER FOOD TO THE GROCERY STORE, AND FUEL TO THE GAS STATION, MAY NOT HAVE THE MONEY TO COMPLETE THEIR ROUNDS.

FOOD, FUEL AND MONEY MAY BE RATIONED, AND THERE MAY BE A PERIOD OF PUBLIC DISORDER AND CHAOTIC LAWLESSNESS. THE ELECTIONS MAY BE SUSPENDED.

The National Guard and even elements of the Army are preparing to deploy on United States home soil. They are currently undergoing rehearsal exercises in crowd control and the restoration of order.

In the fortunate event that this passes without incident, governments will infuse the banking system with massive 'capital injections', in an effort to 'guarantee all deposits' and lubricate the stuck gears of the financial sector. What this means is that the money supply will be flooded and we will enter a period of hyperinflation. Essential items will become outrageously expensive - say $10 for a loaf of bread, or $20 for a gallon of gas.

Either way, prepare now before everyone panics. The slowest runners get eaten by the bear!

Short term advice: stock up on food and gas, and withdraw cash from your bank. NOW. Buy weapons to protect it and things you need.

Long term: if you have the funds, start buying silver and firearms. If you have gold, hold on to it. There is a growing shortage of physical gold - even the US Mint ran out of coins to sell.

This isn't the end of the world, but it is the end of America as we know it. Prepare accordingly.

Love,

Marcus
It's time for some get back, don't you think?
Labels: bank bailout, economic collapse, Federal Reserve, wall street