RE: U.S.A.F. Chemtrails
----------------- Bulletin Message -----------------
From:
Shane (Infoseekr)
Date: Apr 27, 2008 5:43 PM
stop using periods in bulletins, it IS the cause of the excessive space being added to bulletins
this guy might know more about it
http://www. ngu. edu/science/pp/Fac/Marks. html
theres even a phone number
he taught at the USAF
read his page
and its mentioned here
http://www. rinf. com/columnists/news/electromagnetic-warfare
with tons of info
Third Estate, Second Estate. No, United States
Exactly, Id like to see further proof where this came from
The USAF chemtrail course is real???????????????????????????
NoDancing@800 FEMA Concentration Camps Nationwide
The USAF chemtrail course is real
Can Anyone substantiate this one????
Soothe
Lorie
Date: 27 Apr 2008, 15:57
Thanks, graditude and love to Ooppoddoo!
----------------- Bulletin Message -----------------
From:
ooppoddoo
Date: 27 Apr 2008, 09:30 AM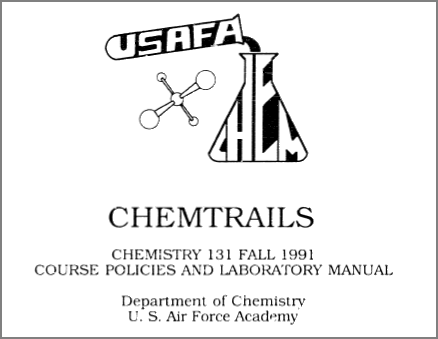 Or at least this picture was on the cover of their syllabus in 1991
Sooooo...at the very least, a lot of people in the USAF have been bald-faced LYING about not knowing where on earth the term 'chemtrail' came from
If anyone can find out what else they were learning in their coursework at the USAF Academy, ooppoddoo would like to know ~ Janet