RE: Mass Mobilization Of US Troops On US Soil
----------------- Bulletin Message -----------------
From: JERM
Date: Dec 4, 2008 1:45 PM
From: K1NG D@VID {rEVOLutionary Mind}
Date: Dec 4, 2008 12:41 PM
Mass Mobilization Of US Troops On US Soil - Martial Law
REEEEEEEEEEEEEEEEEEEPOST!
----------------- Bulletin Message -----------------
From: Eddie NWO Censored
Date: Dec 4, 2008 10:32 AM
Eddie NWO Censored
December 03, 2008 - Twenty thousand additional US uniformed troops, set to be trained by 2011, are to help as a response to the threat of a possible mass terror attack or civil unrest following an economic collapse, But despite assurances from the Pentagon, many Americans are worried by the prospect of seeing the military guard in the streets
Dec 3, 2008 - Fox: Experts Warn of an Impending WMD Attack Within 5 Years
CNN – Attack before 2013 likely
December 03, 2008 - Homeland Security picks K-State for biodefense lab
CBS On The Trail With The Nuke Hunters - WASHINGTON, Nov 24, 2008 - CBS Evening News Exclusive: Specialized Teams Map Natural Radiation In Cities To Prep For Worst
SanDimas. net
- 2008 ShakeOut 7. 8 Earthquake Simulation
Nov 20, 2008 - Government warns of "catastrophic" US quake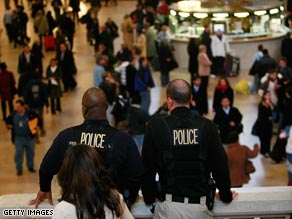 Police watch over travelers at New York's Grand Central Terminal before Thanksgiving
*****************************************************
Biological terror attack likely by 2013, panel says
*****************************************************
CNN News
December 2, 2008
http://edition. cnn. com/2008/US/12/02/terror. report/?iref=mpstoryview
WASHINGTON (CNN) -- Terrorists are likely to use a weapon of mass destruction somewhere in the world in the next five years, a blue-ribbon panel assembled by Congress has concluded
They are more likely to use a biological weapon than a nuclear one -- and the results could be devastating, the chairman of the commission told CNN
"The consequences of a biological attack are almost beyond comprehension. It would be 9/11 times 10 or a hundred in terms of the number of people who would be killed," former Sen Bob Graham said
Read The Rest HERE
CBN News: Bio Attack Likely in Next 5 Years - December 02, 2008
An anthrax attack is a particular danger, the commission warns
*********************************
WMD strike 'likely' in five years
*********************************
BBC News
4 December 2008
http://news. bbc. co. uk/2/hi/americas/7762318. stm
The chance of a nuclear or biological attack on a major world city within the next five years is now much greater, a new report has warned
A bi-partisan commission set up by the US Congress said America's "margin of safety" was shrinking, not growing
One of the authors of World at Risk said its enemies were moving quickly to gain weapons of mass destruction
The White House later said it did not plan to overhaul the country's national security structures in response
A spokeswoman said it would be up to Barack Obama to consider the issue, when he took office
Read The Rest HERE
The US Northern Command plans to station 15,000 uniformed troops inside the US by 2011, ready to respond to chemical, biological, radiological, nuclear and high-yield explosive incidents
************************************************
With WMD Attack Likely, Can the US Cope?
************************************************
National Security Experts Say 15,000 Troops Aren't Enough
ABC News
By EMILY FRIEDMAN
Dec 3, 2008
The recent report revealing a likely biological or nuclear terror attack on the United States by 2013 has left some national security experts questioning what, if anything, a government plan to station 15,000 military troops inside the United States might do to counteract a domestic catastrophe
The report, released by the Commission on the Prevention of WMD Proliferation and Terrorism, determined that, because of the availability of biological weapons and, to a lesser extent, the distribution of nuclear material, "it is more likely than not" that an attack on the United States using a weapon of mass destruction will occur in the next five years
Read The Rest HERE
****************************************
US soldiers re-enlisting because of poor economy
****************************************
Associated Press
By JOHN MILBURN and STEPHEN MANNING, Associated Press Writers John Milburn And Stephen Manning
Tue Dec 2, 2008
http://news. yahoo. com/s/ap/20081202/ap_on_re_us/meltdown_choosing_war/print;_ylt=All_tJvjvxaZPc62yb0aNgfLLJ94
FORT RILEY, Kan. – Sgt. Ryan Nyhus spent 14 months patrolling the deadly streets of Baghdad, where five members of his platoon were shot and one died. As bad as that was, he would rather go back there than take his chances in this brutal job market
Nyhus re-enlisted last Wednesday, and in so doing joined the growing ranks of those choosing to stay in the U.S. military because of the bleak economy
"In the Army, you're always guaranteed a steady paycheck and a job," said the 21-year-old Nyhus. "Deploying's something that's going to happen. That's a fact of life in the Army — a fact of life in the infantry"
In 2008, as the stock market cratered and the housing market collapsed, more young members of the Army, Air Force and Navy decided to re-up. While several factors might explain the rise in re-enlistments, including a decline in violence in Iraq, Pentagon officials acknowledge that bad news for the economy is usually good news for the military
In fact, the Pentagon just completed its strongest recruiting year in four years
"We do benefit when things look less positive in civil society," said David Chu, undersecretary of defense for personnel and readiness. "What difficult economic times give us, I think, is an opening to make our case to people who we might not otherwise have"
The retention rate of early-career soldiers in the Army has risen steadily over the past four years and now stands 20 percentage points higher than it was in fiscal 2004. As for the Navy and the Air Force, early- and mid-career sailors and airmen re-enlisted at a higher rate in October than during the same period in 2007. The Marine Corps was not immediately able to provide comparative figures on re-enlistments
Alex Stewart joined the Army two years ago, when the factory where he worked as a welder started laying off. He was sent to Afghanistan with the 82nd Airborne Division, which suffered 87 deaths last year, the highest total suffered by the 20,000-member unit since the fighting in Iraq and Afghanistan began
When his hitch was up in earlier this year, the 32-year-old from Grand Rapids, Mich. , didn't hesitate to re-up for five more years
"I want a stable life for my wife in a very shaky economy," Stewart said. "There were no other options"
Stewart's new assignment will take him to Germany, where he will serve as a truck driver, though it is always possible he could be sent back into combat
"I figure if I do another five or 10 years in the Army," he said, "the economy will turn around and I can get a truck-driving job"
Army Spc. Alicia Fauls, 20, of the Woodlands, Texas, had two years to go when she re-enlisted last week at Fort Riley, home of the Army's 1st Infantry Division, which has one brigade in Iraq, one headed home and another preparing to ship out. She has not been sent into the war zone yet but knows an assignment in Iraq or Afghanistan is probably in her future
"I did have only two years left, but I'm not sure what I would do," Fauls said. "It's harder to find jobs. If I do wait to get out, the economy should be in better shape"
When Nyhus' tour in Iraq ended last April, he talked to his wife about getting out of the Army and working toward a college degree. But the father of a 2-year-old daughter opted for the job security, even though he is likely to be sent back to Iraq as a member of the 4th Infantry Division, which has shouldered a heavy burden of the fighting
Marine Staff Sgt. Angela Mink, who was injured in a helicopter accident in Iraq in 2004 and now works in public affairs at the Corps' New River air station in North Carolina, said the thought of taking a civilian job "without my fellow Marines just didn't appeal to me. " Moreover, she had little hope of finding a private-sector job that pays as well as the Marines
"Equivalent pay is nonexistent, once you factor in insurance premiums, housing costs," said Mink, 37. "And we would definitely have had to relocate I have a child with a disability and what civilian employer is going to take that into consideration when they think of moving you somewhere?"
And so the married mother of five signed up recently for four more years
Roughly 208,000 men and women left the military in 2007. Some were rank-and-file warriors, while others worked in specialized fields such as satellite communications or computer networking. Only about 30 percent of enlisted soldiers hold a bachelor's degree
The job market is still fairly good for veterans with technical skills, especially those coveted by defense contractors, said Carl Savino, a retired Army major who runs a company outside Washington that offers employment services to new veterans
Sgt. Michael Rodriguez, 29, of San Antonio, decided to get out after he landed a job with a defense contractor working on communications systems. "I feel pretty secure with them," said Rodriguez, who will leave the military soon
But even defense-contractor jobs could dry up as the economic crisis deepens, Savino said
"Jobs are getting harder to come by for veterans," Savino said. "The farther they deviate from the defense contractors, who are still in reasonably strong shape, the more challenging it is"
************************************
US prepares for "continuity of government"
************************************
Bruce Fein: Army to deal with potential domestic "civil unrest and crowd control"
December 1, 2008
US prepares for "continuity of government"
Bruce Fein: Army to deal with potential domestic "civil unrest and crowd control"
The US federal government has made strong preparations for "continuity of government" in the event of a national catastrophe, A full army brigade is now on active duty within domestic borders, and the Bush administration has issued a directive which allows the president to coordinate all three branches of the federal government in such an event
MILITARY TO TAKE OVER US STREETS
Oct 26, 2008 - US Combat Brigade on Domestic Mission
Oct 7, 2008 - Pentagon dedicated unit for US Patrol - Martial Law
*************************************************
Pentagon to detail military to bolster security
*************************************************
Plan would dedicate 20,000 uniformed troops inside U. S by 2011
Washington Post
By Spencer S Hsu and Ann Scott Tyson
Nov 30, 2008
http://www. msnbc. msn. com/id/27989275/
The U.S. military expects to have 20,000 uniformed troops inside the United States by 2011 trained to help state and local officials respond to a nuclear terrorist attack or other domestic catastrophe, according to Pentagon officials
The long-planned shift in the Defense Department's role in homeland security was recently backed with funding and troop commitments after years of prodding by Congress and outside experts, defense analysts said
There are critics of the change, in the military and among civil liberties groups and libertarians who express concern that the new homeland emphasis threatens to strain the military and possibly undermine the Posse Comitatus Act, a 130-year-old federal law restricting the military's role in domestic law enforcement
But the Bush administration and some in Congress have pushed for a heightened homeland military role since the middle of this decade, saying the greatest domestic threat is terrorists exploiting the proliferation of weapons of mass destruction
Before the terrorist attacks of Sept. 11, 2001, dedicating 20,000 troops to domestic response -- a nearly sevenfold increase in five years -- "would have been extraordinary to the point of unbelievable," Paul McHale, assistant defense secretary for homeland defense, said in remarks last month at the Center for Strategic and International Studies. But the realization that civilian authorities may be overwhelmed in a catastrophe prompted "a fundamental change in military culture," he said
The Pentagon's plan calls for three rapid-reaction forces to be ready for emergency response by September 2011. The first 4,700-person unit, built around an active-duty combat brigade based at Fort Stewart, Ga., was available as of Oct. 1, said Gen. Victor E. Renuart Jr., commander of the U.S. Northern Command
If funding continues, two additional teams will join nearly 80 smaller National Guard and reserve units made up of about 6,000 troops in supporting local and state officials nationwide. All would be trained to respond to a domestic chemical, biological, radiological, nuclear, or high-yield explosive attack, or CBRNE event, as the military calls it
Military preparations for a domestic weapon-of-mass-destruction attack have been underway since at least 1996, when the Marine Corps activated a 350-member chemical and biological incident response force and later based it in Indian Head, Md., a Washington suburb. Such efforts accelerated after the Sept. 11 attacks, and at the time Iraq was invaded in 2003, a Pentagon joint task force drew on 3,000 civil support personnel across the United States
In 2005, a new Pentagon homeland defense strategy emphasized "preparing for multiple, simultaneous mass casualty incidents." National security threats were not limited to adversaries who seek to grind down U.S. combat forces abroad, McHale said, but also include those who "want to inflict such brutality on our society that we give up the fight," such as by detonating a nuclear bomb in a U.S. city
In late 2007, Deputy Defense Secretary Gordon England signed a directive approving more than $556 million over five years to set up the three response teams, known as CBRNE Consequence Management Response Forces. Planners assume an incident could lead to thousands of casualties, more than 1 million evacuees and contamination of as many as 3,000 square miles, about the scope of damage Hurricane Katrina caused in 2005
Last month, McHale said, authorities agreed to begin a $1.8 million pilot project funded by the Federal Emergency Management Agency through which civilian authorities in five states could tap military planners to develop disaster response plans. Hawaii, Massachusetts, South Carolina, Washington and West Virginia will each focus on a particular threat -- pandemic flu, a terrorist attack, hurricane, earthquake and catastrophic chemical release, respectively -- speeding up federal and state emergency planning begun in 2003
Last Monday, Defense Secretary Robert M. Gates ordered defense officials to review whether the military, Guard and reserves can respond adequately to domestic disasters
Gates gave commanders 25 days to propose changes and cost estimates. He cited the work of a congressionally chartered commission, which concluded in January that the Guard and reserve forces are not ready and that they lack equipment and training
Bert B. Tussing, director of homeland defense and security issues at the U.S. Army War College's Center for Strategic Leadership, said the new Pentagon approach "breaks the mold" by assigning an active-duty combat brigade to the Northern Command for the first time. Until now, the military required the command to rely on troops requested from other sources
"This is a genuine recognition that this [job] isn't something that you want to have a pickup team responsible for," said Tussing, who has assessed the military's homeland security strategies
The American Civil Liberties Union and the libertarian Cato Institute are troubled by what they consider an expansion of executive authority
Domestic emergency deployment may be "just the first example of a series of expansions in presidential and military authority," or even an increase in domestic surveillance, said Anna Christensen of the ACLU's National Security Project. And Cato Vice President Gene Healy warned of "a creeping militarization" of homeland security
"There's a notion that whenever there's an important problem, that the thing to do is to call in the boys in green," Healy said, "and that's at odds with our long-standing tradition of being wary of the use of standing armies to keep the peace"
McHale stressed that the response units will be subject to the act, that only 8 percent of their personnel will be responsible for security and that their duties will be to protect the force, not other law enforcement. For decades, the military has assigned larger units to respond to civil disturbances, such as during the Los Angeles riot in 1992
U.S. forces are already under heavy strain, however. The first reaction force is built around the Army's 3rd Infantry Division's 1st Brigade Combat Team, which returned in April after 15 months in Iraq. The team includes operations, aviation and medical task forces that are to be ready to deploy at home or overseas within 48 hours, with units specializing in chemical decontamination, bomb disposal, emergency care and logistics
The one-year domestic mission, however, does not replace the brigade's next scheduled combat deployment in 2010. The brigade may get additional time in the United States to rest and regroup, compared with other combat units, but it may also face more training and operational requirements depending on its homeland security assignments
Renuart said the Pentagon is accounting for the strain of fighting two wars, and the need for troops to spend time with their families. "We want to make sure the parameters are right for Iraq and Afghanistan," he said. The 1st Brigade's soldiers "will have some very aggressive training, but will also be home for much of that"
Although some Pentagon leaders initially expected to build the next two response units around combat teams, they are likely to be drawn mainly from reserves and the National Guard, such as the 218th Maneuver Enhancement Brigade from South Carolina, which returned in May after more than a year in Afghanistan
Now that Pentagon strategy gives new priority to homeland security and calls for heavier reliance on the Guard and reserves, McHale said, Washington has to figure out how to pay for it
"It's one thing to decide upon a course of action, and it's something else to make it happen," he said. "It's time to put our money where our mouth is"