United State sponsored terrorism
RE: The Never Ending Story of Jewish Violence
----------------- Bulletin Message -----------------
From: Infensus Mentis
Date: Nov 14, 2008 5:41 AM
I was told by a friend of mine that this bulletin was deleted shortly after I last posted it, and it wasn't by me. Here it is again, apologies to those that may have caught it before it was Orwelled by Rupertspace.
The Never Ending Story of Jewish Violence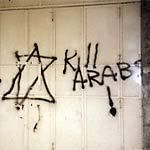 It's
olive harvest season
in the West Bank, and militant Jewish racists who inhabit the
illegal settlements
throughout Occupied Palestine are again determined to cause as
much grief as possible
for struggling Palestinian farmers. Even human rights activists seeking to provide protection for the farmers
come under attack
from these violent Zionist loons. ..
Already
hundreds of olive trees have been torched in Nablus
by these nutcases, some of them hundreds of years old, while the complicit IOF not only refuses to prevent the Jewish attacks but
provides them with practical and moral support
and goes about
arresting and kidnapping Palestinians
just for good measure. ..
Yesterday, Friday, Oct 10
: ....
Elderly Man, Two Kids Injured In West Bank Settler Attack
Israeli settlers injured six Palestinians as they harvested their olive trees near the illegal Israeli settlement of Brachah.

Medical sources at Radefia hospital told Ma'an that six residents of the village south of Nablus suffered bruises, fractures and wounds after settlers assaulted them. Among the victims were two children and an elderly Palestinian man.

Hospital officials identified the two injured children as eight-year-old Hesham Fayez Fathi Mansur and 12-year-old Madeeha Nassar Rashed Mansur.

70-year-old Fathi Rasheed Mansur, as well as Ibtisam Naasar Rasheed and Manal Wasfi Rasheed Mansur, both 30, were also injured in the attack.
A Palestinian Authority (PA) official responsible for village affairs told Ma'an that "dozens of Israeli settlers" attacked the Palestinians.

The official, Ghassan Daghlas, said the settlers "beat and threw stones at the residents" of the village on Friday. ..
More on the settlers:

Jewish Terrorists Rampage Through Arab Village

Israel's Front Line Thugs: The Settlers

Settler Gang Pushes Palestinian Boy Off Roof

'I Kicked The Arab, I Stepped On His Head'

Jewish Klansmen Tie Palestinian To Power Pole, Beat Him Savagely

How I Became a Target For Jewish Terrorists

Hundreds Join In Settler Violence

Army Aids Settlers In Attacks On Farmers Harvesting Olives

Israel's Army and Settlers Fall Out: The Souring of a West Bank Romance

Israeli State-Sponsored Terrorism: The Settlers

Jewish 'Modesty Patrols' Sow Fear in Israel

Settler Attacks on Palestinians, Israeli Soldiers Increasing

Shooting Back at the Settlers

Settlers Attack Non-Violent Farmers and Activists in Ni'lin Village

Israeli Settlers Raid Palestinian Farms

Extremist Jews Storm The Aqsa Mosque Under Army Protection

West Bank On Edge as Young Radicals Settle In: Militant Jews Attack Palestinians

Settlers Kill Palestinian Girl After Hebron Funeral

Settlers Attack Palestinians

Jewish Colonizers Attack, Injure Mother and Two of Her Sons in Hebron

Shepherd Shot Dead By Settlers in West Bank

Extremist Jewish Residents of Akka Attack a Pregnant Arab Teacher

Jewish Extremists Attempt Pogrom Against Arabs in Akka

Israel's Religious Fanatics Riot in Akka

Olmert Admits Jewish Underground Active In Israel

Israeli Army Chief Slams Settler Attacks

License to Kill

America's Hypocrisy Matched Only By Israel's

Israeli Children Terrorize Palestinians on Their Way to School

Settlers Torch Hundreds of Olive Trees Around Nablus Region

Settlers Burn 3,000 Olive Trees in Southern Nablus

Settlers Cut Down At Least 20 Olive Trees

Two Palestinian Farmers Injured as Settlers Attack Olive Harvest Near Huwarra, Nablus

Settlers Vandalise West Bank Cemetary

Settlers Vandalize Muslim Graves After IDF Razes Illegal Outpost

Gideon Levy: Settlers have earned many Israelis' hatred of them

Settlers: We Hope IDF Soldiers Die, Become Like Gilad Shailt

Defeat Settler Terror

Jewish Occupiers Attack Palestinians

Bitter Harvest as Israeli Settlers Run Rampage

Palestine: The Architecture of Apartheid

Armed Settlers Burn Farmers Equipment in Burin

New Report Details Attacks on Palestinian Children by Israeli Settlers

Demanding a Settler-Free Olive Harvest

American Diplomat Decries Settler Attacks on Palestinian Farmers

IFJ Condemns Israeli Settler Attacks on Palestinian Journalists

PLO to Ask UN Security Council For Protection Against Settler Attacks

UK Urges Israeli Settlement Freeze

Enough Already: Israel's Unruly Child

EU Condemns Settler Acts of Brutality

EU Slams Brutality Carried Out By Israeli Settlers Against Palestinian Villagers

Masked Settlers Assault Palestinian Photographers

Settlers Attack Elderly Woman's Home In Hebron

Settlers Burn Palestinian Land in Burin

Settlers Rebuild Illegal Structure, Attack Palestinians

Israel Spy Chief Fears Jewish Extremist Plot

Lieberman: Shin Bet Could Be Behind Settler Violence

Two Border Police Hurt by Stone Throwing Settlers Near Hebron

Israel to End Support of Outposts

Britain to Crack Down on Exports From Israeli Settlements

Israeli Miltary Detains Seven Palestinians as Armed Settlers Wound Three Others

Israel in a Showdown With West Bank Settlers

Yesh Din Report: Only 8% of Palestinian Complaints Against Settlers Result in Indictment

Fire in Hebron: Rightists Burn Palestinian Flag