RE: We're Going After the FED ATTACK ATTACK ATTACK!
----------------- Bulletin Message -----------------
From:
My Hate Speech3
Date: 24 Sep 2008, 23:39
Irish American Patriot is VOTING 3rd PARTY
Date: Sep 25, 2008 4:11 AM
----------------- Bulletin Message -----------------
From: Peace & Freedom Are Achieved Through Understanding
Date: Sep 24, 2008 9:08 PM

Zag
The Blue Meanie
☠Aegri Somnia☠
Truth Seeker Against The New World Order™
Ignorance Isn't Bliss



Alright people. Here's a shot at reclaiming any notion of 'democracy'. The "Fed" devalues our currency and helped create the housing meltdown that has lead to all of this.my "Federal Reserve" posts and do some web searches if any of this is news to you The Fed is a privately owned bank, and they are in the process of claiming literally 80% ownership of AIG for a $85 billion loan, for one tiny example
They can also be thanked for the Great Depression, and so on Dig thru
Until this privately owned tyrannical institution is brought down, the idea that these presidential 'elections' and the elected government at large is even remotely legitimate, and that electing a candidate who doesn't speak out against it will bring any REAL change is laughable at best.
It all begins here
Lite up the phone lines of your states elected officials at Capital Hill and tell them enough is enough. You can count on feeling satisfaction from that
Constitutional Conservative Ron Paul has introduced H. R. 2755, the "Federal Reserve Board Abolition Act", which will repeal the Federal Reserve Act and abolish the US Federal Reserve at the end of 1 year after its passing into law
The 1 year time frame will be a "winding down" period, overseen by the Chairman of the Board of Governors of the Federal Reserve System, who will continue to pay employees and operate day-to day dealings
The OMB Director will begin liquidating the Fed's assets, which will put into the General Fund of the Treasury.
The Secretary of the Treasury and the Director of the Office of Management and Budget will report back to Congress at the end of 18 months
The Texas Congressman has been a long time critic of the US Federal Reserve, ran a grassroots campaign for the Republican Party nomination of President of the United States. Paul was derided by many within his own party for his stance on the Iraq War. Despite poor showings in polls, Rep.
Paul used his presidential campaign as a bully pulpit for small government and a strict interpretation of the US Constitution, which has since found an increasing acceptance by conservatives, including political commentators Glenn Beck and Chuck Norris
Ron Paul blasting Fed Chairman Ben Bernake today:


Comment





SilentDeep

If only we could be sure the FED wasn't replaced with something worse, like the IMF.


EDUCATE YOURSELF AND STOP SUPPORTING TYRANNY!

THE ONLY THING YOU GET FROM CENTRAL BANKING IS DEBT!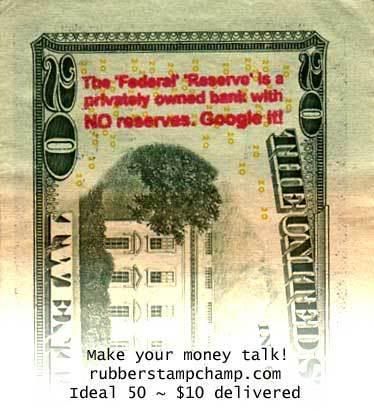 Paul Grignon's 47-minute animated presentation of "Money as Debt" tells in very simple and effective graphic terms what money is and how it is being created. It is an entertaining way to get the message out. The Cowichan Citizens Coalition and its "Duncan Initiative" received high praise from those who previewed it..
I recommend it as a painless but hard-hitting educational tool and encourage the widest distribution and use by all groups concerned with the present unsustainable monetary system in Canada and the United States..
MONEY IS DEBT