RE: UFO Invasion Coming - The New World Order
----------------- Bulletin Message -----------------
From:
Anti-NWO
Date: Jun 23, 2008 4:09 PM
----------------- Bulletin Message -----------------
From:
Eddie NWO Censored
Date: Jun 20, 2008 2:09 PM
Many people have no clue what UFO has to do with the New World Order, but if you know the Vatican Library contains centuries of UFO literatures and extra terrestrial technical manuals (Tesla's father Milutin Tesla used to work there), and know that the Jesuit Order rules the EU NATO USA and possibly the world, you will have to ask, with all the syncronicities of UFO government disclosures, Vatican UFO statements, and recent sightings and chemtrail sprayings, you will have to ask yourself - DOES THE UFO PHENOMENON HAVE NOTHING TO DO WITH THE NEW WORLD ORDER? Project Blue Beam fake UFO invasion? Holographic 2nd coming of Christ? Or a REAL UFO attack is looming?
I was in Brazil 3 years ago participating in the mystical Amazon psychedelic ayahuasca journey with author Graham Hancock, and I can tell you one thing - THEY EXIST, and watching over us and trying to communicate from another higher dimension - I was served with a dire 'telepathic' warning, and I subsequently left the US
An unusual French coin - It was made in the 1680s in France and the design on one side certainly looks like it could be a flying saucer in the clouds over the countryside
X-Files - I want to believe (2008) Trailer
The number of UFO sightings reported to the MoD is up from 97 to 135 (Telegraph UK)
CNN - UK Government's UFO disclosure May 16th 2008
On Tuesday May 13th, 2008 the country of Britain released an immense collection of UFO documentation with cases spanning back to the 70's up to near present day. The story has received extensive coverage on the world-wide televised news platform.
With many stories discussing the declassification of these documents, and some of the more interesting cases which are found within them
..
Alien video man Jeff Peckman asks Barack Obama to back UFO plan Telegraph UK 6-7-08 (video clip above, with spoof added)
The helicopter crew spotted the aircraft earlier this month
Huge UFO spotted by police helicopter - BBC 6-20-08
Huge rise in British UFO sightings - Telegraph UK 04/18/2008
Thanks
Soothe is READY
for thia police chase article
**********************************
Police chase UFO over Cardiff
**********************************
Telegraph UK
By Laura Clout
20/06/2008
A police helicopter crew gave chase to a UFO after it almost collided with their aircraft near a military base.
The pilot was forced to bank sharply to avoid being hit by the mystery aircraft as the helicopter was returning to the Ministry of Defence base of St Athan, near Cardiff.
The three crew, who described the UFO as 'flying saucer-shaped', then gave chase, getting as far as the North Devon coast before they ran low on fuel, it was reported.
The police aircraft was hovering at 500ft and waiting clearance to land on June 7, when those onboard spotted the other craft hurtling towards them from below.
A spokesman for South Wales Police said: "We can confirm the Air Support Unit sighted an unusual aircraft. This was reported to the relevant authorities for their investigation.
"
Read The Rest HERE
A Cambodian police officer examines a piece of metal from the 'UFO'
UFO crashed off the shores of Cambodia - May 31, 2008
***************************************************
UFO blamed for mystery explosion in Vietnam
***************************************************
Telegraph UK
By John Bingham
29/05/2008
UFO is being blamed for a mysterious mid-air explosion over Vietnam.
Islanders on Phu Quoc, close to the coast of Cambodia, heard a loud bang and saw shards of metal up to 5ft-long raining down on them on Tuesday morning.
Local armed forces and volunteers were mustered to help rescue any survivors, believing there had been a disaster.
Officials estimated that the incident had happened around five miles up but airlines in Vietnam, Cambodia and Thailand were contacted and all said they had not lost a plane.
Read The Rest HERE
Vatican Says Amen to human or alien UFO's - May 16, 2008
H GWells - New World Order (PDF Book)
"Subdue yourselves to the federation of the world"
- H G Wells, member of the socialist Illuminati branch Fabian Society
********************************************************************************
WHY ARE THEY STOCKING MILLIONS OF GLOBAL NATURAL SEEDS IN SVALBARD NORWAY? WHY IS EISCAT IN IN SVALBARD BROADCASTING A STUPID DORITOS COMMERCIAL TO OUTTER SPACE? IS HAARP IN ALASKA CREATING AN ELECTROMAGNETIC IONOSPHERIC PRISON, SO NOBODY CAN GET OUT OF EARTH ALIVE, THEREFORE CHINA AND US HAVE STARTED A MAJOR SPACE RACE TO THE MOON SO ONES WHO CONTROL THE ELECTROMAGNETIC FIELD CAN DOMINATE THE PLANET? OR IS THIS ALL A CONSPIRACY TO DESTROY ALL INCOMING UFOS?
********************************************************************************
A European Incoherent Scatter Scientific Association (EISCAT) radar in the Arctic in Norway Svalbard island which broadcasted the winning Doritos ad on June 12, 2008 - Interestingly enough, this is where the globalists' Svalbard DOOMSDAY Seed Vault is located - Should worry about this coincidence?
"Doomsday Seed Vault" in the Arctic
Bill Gates, Rockefeller and the GMO giants know something we don't - Global Research December 4, 2007
Svalbard Global Seed Vault opened - Feb 26, 2008
GLOBAL NATURAL SEEDS ARE HOARDED AT SVALBARD WHEN THE REST OF US PEASANTS ARE BEING POISONED BY GENETICALLY ALTERED GMO SEEDS! SOMETHING DOES NOT LOOK RIGHT PEOPLE! THE DOOMSDAY SEED VAULT WAS OPENED IN FEB 2008!!
Professor Tony Van Eyken of EISCAT - Interstellar communication expert, tells us how we can make contact beyond our solar system to anyone 'out there'
The winning Doritos ad by Matt Bowron (really crappy if you ask me) - check YouTube for other submitted videos
******************************************************************************
Doritos Makes History With World's First Extra Terrestrial Advertisement
******************************************************************************
ScienceDaily (Jun 12, 2008)
Today Doritos makes history, taking the UK's first step in communicating with aliens as they broadcast the first ever advert directed towards potential extra terrestrial life.
The University of Leicester has played a key part in the success of the project
The transmission is being undertaken as part of the Doritos Broadcast Project, which invited the UK public to create a 30 second video clip that could be beamed out to the universe offering a snap shot of life on earth to anyone 'out there'.
Some 61% of the UK public believe this is just the start of communication with ET life and that we will enter into regular communication with an alien species at some stage in the future
The winning space-ad entitled 'Tribe' was voted for by the British public and directed by 25-year-old Matt Bowron. It will officially be entered into the Guinness Book of Records and will be aired on the more conventional medium of television on Sunday 15th June on ITV at 7.
44pm in the ad break of the final Group B game of Euro 2008
The message is being pulsed out over a six-hour period from high-powered radars at the EISCAT European space station in the Arctic Circle.
The University of Leicester has also been involved in the project from its inception
EISCAT Director, Professor Tony van Eyken who will oversee the transmission said: "The signal is directed at a solar system just 42 light years away from Earth, in the 'Ursa Major' or Great Bear Constellation.
Its star is very similar to our Sun and hosts a habitable zone that could harbour small life supporting planets similar to ours"
Read The Rest Here
EISCAT Svalbard Radar - EISCAT is an acronym for the European Incoherent Scatter Scientific Association. They operate three incoherent scatter radar systems, at 224 MHz, 931 MHz in Northern Scandinavia and one at 500 MHz on Svalbard, used to study the interaction between the Sun and the Earth as revealed by disturbances in the ionosphere and magnetosphere. At the Ramfjordmoen facility (near Tromsø, Norway) they also operate an ionospheric heater facility, similar to HAARP. Additional receiver stations are located in Sodankylä, Finland, and Kiruna, Sweden. The EISCAT Headquarters are also located in Kiruna.
EISCAT is funded and operated by research institutes and research councils of Norway, Sweden, Finland, Japan, China, the United Kingdom, and Germany
ABC - Svalbard Doomsday Seed Vault
NBC News - Doomsday seed vault tour
************************************
CRISP AD BEAMED TO ALIENS
************************************
Daily Star UK
12th June 2008
By Emily Garnham
AN ADVERT targeted at aliens was beamed into outer space today, in a bid to communicate with extra-terrestrial life
Members of the UK public were invited to create a 30-second video clip offering a snap-shot of life on earth to anyone 'out there'
And the winning transmission is being pulsed out over a six-hour period from high-powered radars at the EISCAT European space station in the Arctic Circle
The space ad - which will be entered into the Guinness Book of World Records - was created by 25-year-old Matt Bowron for the Doritos Broadcast Project and is the first of its kind to be created for alien life in the final frontier
EISCAT Director, Professor Tony van Eyken, who will oversee today's transmission, said: "The signal is directed at a solar system just 42-light-years away from Earth in the Ursa Major or Great Bear Constellation
Read The Rest HERE
UFO over Vatican - June 24, 2006
What little gray men?
**************************************
Vatican: It's OK to believe in aliens
**************************************
(BECAUSE THE VATICAN LIBRARY HAS ALL THE DOCUMENTS!)
By ARIEL DAVID, Associated Press Writer
Tue May 13, 2008
VATICAN CITY - Believing that the universe may contain alien life does not contradict a faith in God, the Vatican's chief astronomer said in an interview published Tuesday
The Rev Jose Gabriel Funes, the Jesuit director of the Vatican Observatory, was quoted as saying the vastness of the universe means it is possible there could be other forms of life outside Earth, even intelligent ones
"How can we rule out that life may have developed elsewhere?" Funes said "Just as we consider earthly creatures as 'a brother,' and 'sister,' why should we not talk about an 'extraterrestrial brother'? It would still be part of creation"
Read The Rest HERE
****************************************
Will Aliens Destroy Earthly Religion?
****************************************
If mankind finds intelligent extraterrestrial life, what will happen to the world's religions?
Prompted by Vatican chief astronomer Gabriel Funes' recent observation that aliens and God are not incompatible, I'm currently researching the topic for a Wired article.
Later today I'll speak with Tom Peters, a Graduate Theological Union professor and co-editor of the journal Theology and Science
Peters is currently conducting a survey of public opinion on aliens and religion; you can take it here (and hurry, as it closes Tuesday!) And if the subject piques your interest, I recommend some other documents that my reporting has turned up: NASA's final report from its Workshop on the Societal Implications of Astrobiology, SETI research Douglas Vakoch's "Roman Catholic Views of Extraterrestrial Intelligence: Anticipating the Future by Examining the Past," the Center for Theology and the Natural Sciences' "Reconsidering the Theological and Ethical Implications of Extraterrestrial Life," excerpts from NASA historian Steven J.
Dick's superb The Biological Universe and an excellent bibliography, "Theology, Religion and Artificial Intelligence"
A few quick observations: Christians, and the Catholic church in particular, have given quite a bit of thought to this; of people predicting that extraterrestrial contact would destroy Earthly religions, nearly all are atheists; there's broad consensus among theologians that Christianity would adapt to contact, though opinion about the nature of that adaptation varies
Read The Rest HERE
New World Order - UFO ATTACK PLAN
..
UFO The Greatest Story Ever Denied - full documentary - NASA NRO black budget UFO programs, official testimonies, disclosure
*******************************************************************************
The Satanist Illuminati Jesuit Order Vatican and its work horse NASA are about to roll out something big
*******************************************************************************
Pope's astronomer insists alien life 'would be part of God's creation' - Independent UK May 15, 2008
Father Emmanuel Carreira operating the telescope at the Vatican Observatory in Castelgandolfo, Italy, in 2005 (Tony Gentile/Reuters)
*********************************************************************
Vatican astronomer cites possibility of extraterrestrial 'brothers'
*********************************************************************
Reuters
May 14, 2008
VATICAN CITY: The Vatican's chief astronomer says there is no conflict between believing in God and in the possibility of extraterrestrial "brothers" perhaps more evolved than humans
"In my opinion this possibility exists," said the Reverend José Gabriel Funes, head of the Vatican Observatory and a scientific adviser to Pope Benedict XVI, referring to life on other planets
"How can we exclude that life has developed elsewhere," he said in an interview with the Vatican newspaper L'Osservatore Romano, published in its Tuesday-Wednesday edition, The large number of galaxies with their own planets makes this possible, he noted
Asked if he was referring to beings similar to humans or even more evolved than humans, he said: "Certainly, in a universe this big you can't exclude this hypothesis"
In the interview headlined, "The extraterrestrial is my brother," he said he saw no conflict between belief in such beings and faith in God
Read the rest HERE
************************************************************************************
Is the NASA Blue Beam Project NWO 'fake' invasion coming? Or Earth is now seriously facing a real UFO threat?
************************************************************************************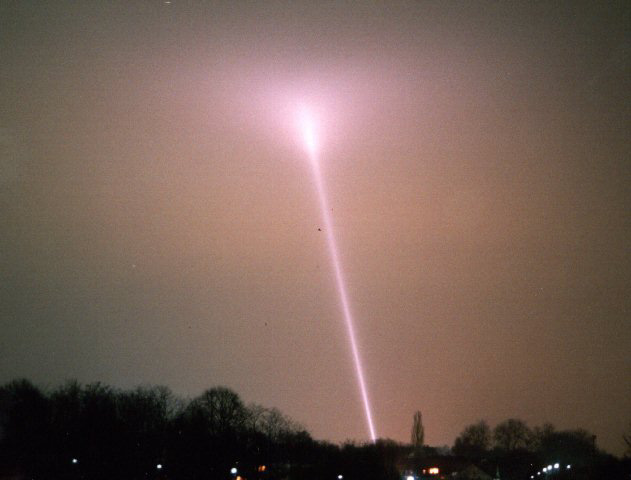 *****************************************************
Britain releases batch of files on UFO sightings
*****************************************************
Associated Press Writer
By GREGORY KATZ
Tue May 13, 7:58 PM
LONDON - The men were air traffic controllers, Experienced, calm professionals Nobody was drinking But they were so worried about losing their jobs that they demanded their names be kept off the official report
No one, they knew, would believe their claim an unidentified flying object landed at the airport they were overseeing in the east of England, touched down briefly, then took off again at tremendous speed, Yet that's what they reported happened at 4 pm on April 19, 1984
The incident is one of hundreds of reported sightings contained in more than 1,000 pages of formerly secret UFO documents being released Wednesday by Britain's National Archives It is one of the few that was never explained
The air traffic controllers' "Report of Unusual Aerial Phenomenon" was filed from an unspecified small airport near the eastern coast of England
Read The Rest Here
Former head of UK MOD UFO division Nick Pope
*************************************************************
'Aliens could attack at any time' warns former MoD chief
*************************************************************
Daily Mail UK
By CHARLOTTE GILL
10th November 2006
http://www. dailymail. co. uk/pages/live/articles/news/news. html?in_article_id=415514&in_page_id=1770
****************************************************************************
WEAPONIZING SPACE - SHIELDING EARTH FROM UFO INVASION?
****************************************************************************
Supreme Allied Commanders Mountbatten and MacArthur General Douglas MacArthur stated:
"The nations of the world will have to unite, for the next war will be an INTERPLANETARY war - The nations of Earth must someday make a COMMON FRONT (NEW WORLD ORDER) against attack by people from other planets" - General Douglas Mac Arthur, New York Times 1955
Dr Steven Greer - UFO Disclosure Project May 9th 2001 National Press Club Conference
White Sands New Mexico – REAL 1997 UFO crash caused by US military's powerful radar shield
NASA UFO footage – possibly repelled by scalar beam weapon such as HAARP
NASA live commentary over a UFO swarm near a 12 mile long 'tether' released by space shuttle Columbia (some of the UFOs were measured more than 1,2 miles long)
Ronald Reagan talks about UFO alien threats at the United Nations - 21st September 1987
China shot down satellite, starting space war against USA
US Aegis SM-3 successfully shot down 'rogue spy satellite' to counter China space weapon threat
..
China launched its CHANG'E-1 lunar orbiter - Oct 2007 - Chinese Premier Wen Jiabao unveils the returning moon image in Nov.
26, 2007
Asteroid 2007 TU24 Close Approach in January 2007
H G Wells - Author of 'War Of The Worlds' - Wrote the propaganda novel for the Illuminati, as he was a member of the socialist branch Fabian Society
Orson Welles 'War Of The Worlds' radio broadcast caused mass chaos - 1938/10/31
WHAT IS NASA'S BLUE BEAM PROJECT?
NASA's BLUE BEAM PROJECT - HOLOGRAPHIC PROJECTION OF MASS UFO ATTACK ( OR 2nd COMING OF CHRIST) TO SUBDUE THE PUBLIC AT THE FINAL DAYS OF THE NEW WORLD ORDER
Wernher Von Braun
Dr Carol Rosin disclosed what she learn from the late Nazi Germany V2 rocket creator and NASA space program pioneer Wernher Von Braun - the dangerous plans of the secret government's Total Weaponization Of SPACE
*******************************************************************************
Eye-opening interview with Carol Rosin about the late Werner von Braun
*******************************************************************************
German Scientist Werner von Braun Anticipated
Terrorists, Asteroids and ETs on American "Enemy's List"
© 2004 by Linda Moulton Howe
BOMBSHELL INTERVIEW WITH Dr CAROL ROSIN ABOUT HER WORK WITH THE LATE GERMAN SCIENTIST Dr WERNER VON BRAUN / VON BRAUN ANTICIPATED TERRORISTS, ASTEROIDS AND ETs ON AMERICA's 'ENEMIES LIST!' / FORESAW AND WARNED OF 'WAR IN SPACE' AS AN EVENTUALITY! –
Werner Von Braun, Ph,D, rocket physicist from Germany who lead American space development after WWII
Carol Rosin founded, and is President of, the Institute for Cooperation in Space and Space Preservation Trust Foundation, Ventura, California
http://www. peaceinspace. com
June 20, 2004 Ventura, California – One of the most famous names from the beginning of the American rocket and missile programs after World War II is Wernher von Braun With the defeat of Germany and Japan in 1945 after the United States dropped the atomic bombs on Hiroshima and Nagasaki, Dr
von Braun and 126 other German rocket scientists were brought to the United States under a government project called "Paperclip," They were based at Fort Bliss, Texas and their work was focused at the White Sands Missile Range north of Ft Bliss in southern New Mexico
Dr von Braun became famous for his expertise and his visionary goal to expand man's knowledge through the exploration of space
His pioneering work led to the development of the Explorer satellites, the Jupiter and Jupiter-C rockets, Pershing, the Redstone rocket, Saturn rockets, and Skylab, the world's first space station, Additionally, his determination to "go where no man has gone before" led America's first landing on the moon in 1969 during the John F Kennedy administration
In 1970, NASA asked Dr. von Braun to move to Washington, D.C.
, to head up the strategic planning effort for the government space agency But in less than two years he decided to retire from NASA and and went to work for Fairchild Industries of Germantown, Maryland, where he met a 6th grade school teacher named Carol Rosin
She was famous for producing a "Students Studying on Spaceship Earth" project for her school classes, Dr von Braun asked Carol to join him at Fairchild Industries to help him create a ban of weapons in space
As President Eisenhower had warned about the threat of the "military-industrial complex" to America's future, Dr Werner warned that space should be kept free from intrusion by that same military-industrial power
Carol left her teaching and went to work for Dr, von Braun in 1974 He was her mentor until he died in Alexandria, Virginia on June 16, 1977
Afterward, Carol Rosin has persisted for nearly thirty years in trying to carry out Dr. von Braun's request to get weapons banned from space.
She is now President of the Institute for Cooperation in Space and of the Space Preservation Trust Foundation Last year on December 8, 2003, her U
S, Space Preservation Act was placed by Representative Dennis Kucinich as House Bill 3657 in the 108th Congress Its statement of purpose: "To preserve the cooperative, peaceful uses of space for the benefit of all humankind by prohibiting the basing of weapons in space and (by prohibiting) the use of weapons to destroy or damage objects in space that are in orbit, and for other purposes"
Congressman Dennis Kucinich (D-Ohio) introduced Carol Rosin's U
S, Space Preservation Act as House Bill 3657 on December 8, 2003 Further, she has written a Space Preservation Treaty to be introduced to nations of the world for signing through the United Nations to permanently ban basing of weapons in space
In the past 30 years as Carol has worked hard to carry out Dr von Braun's challenge to her, she has often thought of his warnings about the misuse of space and an "Enemy's List" that he said the American government was using to keep the media and public in support of Pentagon budgets
– INTERVIEW –
Carol Rosin, President, Institute for Cooperation in Space and Space Preservation Trust Foundation, Ventura, California: "The message that he (Werner von Braun) was giving me continually was that we must prevent the weaponization of space from happening because otherwise the truth would never be officially acknowledged about who we were, who we are, as a human species in the universes
Part B
to that was the way to achieve peace on this planet is to preserve the peace that there must be in space in order for there to be peace on Earth
Q: YOU SAID 'UNIVERSES,' PLURAL?
'Universes,' is the way he put it to me
I had never heard that term before, I thought we lived in (the only) galaxy solar system universe But he always used the word 'universes'
Q: AS IF HE HAD KNOWLEDGE OF OTHER UNIVERSES?
Exactly
Q: DID HE TALK WITH YOU SPECIFICALLY ABOUT KNOWLEDGE OF EXTRATERRESTRIAL BIOLOGICAL ENTITIES?
Dr, von Braun would have tears in his eyes every time – and he repeated this continuously to me when he talked about us in the galaxy – he would say 'with a hundred billion stars in our galaxy alone What would make us think that we are the only life form?' That was a very typical, repeated quote
READ THE REST HERE
http://www. nancyredstar. com/wmd/Anti_Satellite. htm
********************************************************************************
SPACE WAR TO START ARMING THE ENTIRE EARTH STRATOSPHERE (MORE THAN HALF OF 800 SATELLITES ARE POINTING AWAY FROM EARTH) TO DEFEND US FROM UFO INVADERS? OR 'REPTILIAN' RULERS PLOT TO IMPRISON US FROM THE BENIGN 'SAVIOR' ALIEN RACE?
********************************************************************************
NASA JESUIT'S PROJECT BLUE BEAM
May 26 - The Phoenix Mars probe has landed successfuly on the Red Plant after a 680 million kilometre journey from Earth,
The Phoenix Mars probe was launched ten months ago with its primary mission being to search for evidence of extraterrestrial life
A robotic arm will be used to explore vast amounts of frozen water thought to be buried beneath the surface,
********************************************
Spirit the robot finds signs of Martian life
********************************************
Sunday Times UK
Lewis Smith
May 23, 2008
http://www. timesonline. co. uk/tol/news/uk/science/article3988024. ece
Hot springs capable of sustaining life once bubbled away on the surface of Mars, researchers say after Spirit, a robotic explorer vehicle, detected tell-tale deposits of silica on the surface of Mars Jack Farmer, a professor of astrobiology at Arizona State University, said: "On Earth, hydrothermal deposits teem with life and the associated silica deposits typically contain fossil remains of microbes," said Jack Farmer, a professor of astrobiology at Arizona State University in the United States
"But we don't know if that's the case here because the rovers don't carry instruments that can detect microscopic life
"What we can say is that this was once a habitable environment where liquid water and the energy needed for life were present," The silica was in the Gusev Crater and would have been formed when volcanic stream or hot water burst through the surface Nasa's Phoenix probe is due to land on Mars on Sunday
Universe Today
May 9, 2008
http://www. universetoday. com/2008/05/09/learning-to-breathe-mars-air-video/
Talk about dedication! Volunteers in Russia are testing the ability of humans to breathe argon-enriched air, as part of a research program that simulates a manned trip to Mars. Researchers want to know if humans can survive breathing air similar to that found on Mars.
Of the experiment one Russian scientist said, "Our experiments show that argon combined with the right portion of oxygen is safe for humans I tested it on myself and I'm OK, and volunteers are also doing fine
" Somehow, I'm not convinced about the rationale and safety of this test, This is preliminary research for the Russian Mars 500 project, which will simulate a manned Mars mission next year
People will spend 520 days locked in a bunker-like habitation module, creating an environment like a real mission to Mars, which would take about that same amount of time, with round trip and a month spent on Mars
For the current research, volunteers stayed inside a sealed capsule for ten days at a time, breathing a combination of argon, nitrogen, and oxygen, The TV news report below seems to advocate this type of research, saying that Western researchers "still use mice" for such experiments
Especially reassuring is the scientist who keeps telling the test subjects, "Breathe calmly!"
**********************************************
A One-Way, One-Person Mission to Mars
**********************************************
Universe Today
Written by Nancy Atkinson
March 4th, 2008
Will humans ever really go to Mars? Let's face it, the obstacles are quite daunting Not only are there numerous, difficult, technical issues to overcome, but the political will and perseverance of any one nation to undertake such an arduous task just can't be counted on
However, one former NASA engineer believes a human mission to Mars is quite doable, and such an event would unify the world as never before, But Jim McLane's proposal includes a couple of major caveats: the trip to Mars should be one-way, and have a crew of only one person
McLane worked at NASA for 21 years before leaving in 2007 to work for a private engineering firm, Being able to look from afar at NASA's activities has given him a new perspective, he says
But McLane was still at NASA when he originally had an idea for a one-way, one-person mission to Mars, He calls his proposal the "Spirit of the Lone Eagle," in deference to Charles Lindbergh's solo flight from New York to Paris in 1927
McLane's idea came from his acquaintance with a Russian cosmonaut.
"I noticed the cosmonaut seemed to be a slightly different type of person than the American astronaut," McLane said "Cosmonauts are primarily pilots, and like test pilots, they are very focused on getting the job done
Read the rest here
*************************************************
Is Martian figure actually a Danish mermaid?
*************************************************
Telegraph UK
By Matthew Moore
Last Updated: 2:01pm GMT 23/01/2008
Some claim it is Bigfoot, others insist it is just a rock, but now a new theory for the mysterious "Martian" photograph is gaining popularity on the Internet
The figure captured by a the Nasa explorer Spirit in 2004 is actually a mermaid statue, and is proof that aliens established Denmark, so the theory goes
The logic for this outlandish explanation comes from striking similarities between the figure and a sculpture in Copenhagen known as the Little Mermaid
The resemblance has been pointed out on Internet message boards and appears to be one of the many tongue-in-cheek explanations circling cyberspace with the most support
The Mars statue was "obviously built by an ancient civilisation that later departed Mars and settled Denmark", according to Madurobob on the JREF message board
Read The Rest HERE
Boriska - Boy from Mars
Project Camelot interviews Interviews Boriska - the indigo boy who claims his past life was on MARS
Boris Kipriyanovich is an Indigo Child, probably the most famous in Russia, Boriska, or 'little Boris', was featured in Pravda after Gennady Belimov, a university professor in the Volgograd region of Russia, witnessed Boriska, then aged just seven, astound an adult audience during a camping trip in which he held them spellbound for an hour and a half as he recounted tales of past lives on Mars and Lemuria, and warned of catastrophes due to affect the Earth in 2009 and 2013
Within a short time, word was spreading within Russia about what this diminutive prophet had to say, especially once the story was picked by Moscow's premier newspaper
..
Ufo The Greatest Story Ever Denied
The Best UFO documentary I have seen so far filled with stories of NASA's secret space program, US military industrial complex black budget programs, evidence of alien life on the moon and mars, UFO disclosure project and NASA US military witnesses, and more
Labels: disclosure project, grey men, indigo child, Project Camelot, rods, star kid, The Truth Is Out There, ufo